whether its "fashion Icon", Kpop "It boy" and "Kpop Idol King" Jimin always in the Lead
What is "Kpop IT Boy"
It boy is a word used to describe young males who, inadvertently start trends or spark people's interest in their way of dressing, walking, thinking, or being. The "Kpop it boy" usually has "charm," or something that draws people's attention to them. Their greatest unique feature is that they are exceptional. That they shine out from the crowd and attract attention. To the point where others begin to copy their style of dressing, speaking, and/or acting.
BTS Jimin as "Kpop IT boy"
BTS, Bigbang, and Shinee are among the most well-known bands in the world, not only in South Korea but throughout the world. The band BTS is widely known for bringing the industry's popularity to a global level. So, do they have a large fan base that they refer to as the army? Apart from the bands, k-pop idols have their unique personalities. They are pretty well-known as individuals and have a huge fan base who adores them.
According to search results, BTS member Jimin is "Kpop it boy". According to the top findings, Jimin meets all of the criteria for becoming "Kpop it boy" and is a one-of-a-kind male idol. Jimin has a feminine demeanor, a powerful stage presence, androgynous features, and show-stopping dualism, according to reports.
BTS Jimin was voted King Choice's 'The King of Kpop' for the second year in a row with massive votes.
Jimin, a member of BTS, has been in the headlines this year for a variety of reasons. Last year, Mochi kept our attention from his birthday to his amazing performances on Black Swan and Filter during Map of the Soul ON: E. Many of Jimin's solo tracks have broken records, including "Lie," "Serendipity," and "Filter." Notably, "Filter," the latter stated solo single, has been ranked the 10th most streamed song on Spotify for the year 2020. Read about When BTS Jimin Opens Up About The Personal Struggles for His Self-Composed Track "Promise".
Last Year between October 16 and October 31, King Choice, one of the most popular Kpop voting websites, conducted a survey. Jimin was named "The King of Kpop" after receiving a massive 12,568,794 upvotes. Last year, the Bangtan member won the title after receiving 1,275,292 votes. As a result, he has won the title for the second year in a row. Jimin has already led King Choice's Top Male K-pop Idol Dancer Rankings earlier this year. Jimin received a brand reputation index of over 6.4 million, up 35% from May.
BTS Jimin has been labeled the most fashionable member of the group.
Jimin is the lead singer of the boy band BTS, and he creates an aura that gets attention. He is not only a gifted vocalist, but he also wins the race with his charismatic appearance and self-assurance. The group as a whole has a large fan base, but Jimin specifically has a massive following. He has been nicknamed the "Fashionable School Gang Leader of BTS," with praise for his fashion trends ranges from plain outfits to his favorite brands like "Chanel," "Dior," and "Celine." Jimin is also recognised for his stunning accessories, which many women aspire to have. also read about BTS's Jimin is the Global Fashion Icon Everyone Follows
Brands love Jimin and remarked to him as if Jimin wears it once, it's all out.
"9 Mix and Match Shirt Ideas in the Style of Jimin BTS, Really Stylish!" published Indonesia's IDN Times earlier. Jimin can always steal the show, no matter what he wears, and his appearance will never be tacky, according to him.
Jimin is a member of BTS who is loved all over the world and was also named a fashionista by Vogue, who remarked that if Jimin wears it once, it's all out.
BTS Jimin has been named and lauded by various other worldwide fashion authorities and media sources as a member of the prestigious Business of Fashion (BOF) Class of 2019 for his influence in the global fashion business.
When the opportunity arises, Paper Magazine has been showing its unique appreciation for Jimin.
Jimin has been featured on Celine and YSL's official social media outlets.
BTS Jimin was also called the "King of a Big Deal in K-pop" by Grazia Magazine, the largest fashion publication in the United Kingdom.
Jimin was selected as one of GQ Magazine's 10 Best-Dressed Men of the Week.
On his official SNS, Vogue Sense Editor Edward Barsamian mentioned and praised Jimin and his fashion style multiple times.
Jimin's "Innovators" cover was named "iconic" by the Wall Street Journal.
Jimin has been featured on Tommy Hilfiger Japan's official social media page.
Jimin is indeed a true Fashion King!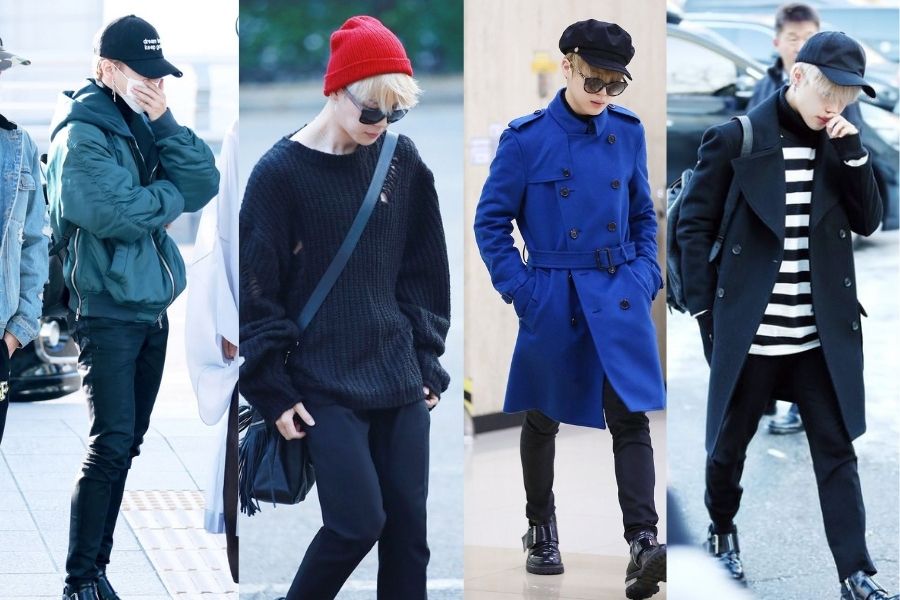 Brand Loves Jimin As previously reported, Jimin has lived up to his title of King of Sold Out by selling out some of the items he wore Including the Concept 8 Earrings, Manomos Glasses, Gentle Monster Pink Glasses, The Lab Dracula Hoodie, Saint Laurent Black Canvass Bag, PatBO Velvet Robes, FILA Hoodie, Nomad Basic Tee Shirt, and Louis Vuitton Cardigan.
Jimin's accessories are also gaining popularity around the world. Jimin's style was recently highlighted on ZoomTV, one of India's largest entertainment TV stations covering Bollywood. "Jimin, who loves to experiment with his hair and sense of style the most, never fails to surprise admirers with his elegant presence," according to Zoom TV. Sometimes it's his hair colors that make the headlines, and other times it's his unique clothing that steals the show."
With his Top Brand power, Jimin can also sell out of fashion items in a flash, even if he isn't actively advertising them but simply wearing them. Converse's "Chuck 70 edition – Heart of the City" has completely sold out in all sizes on Converse Korea and the US website in less than 24 hours after BTS's newest update following their major win at the Seoul Music Awards.