All time favorite Top 10 South Movies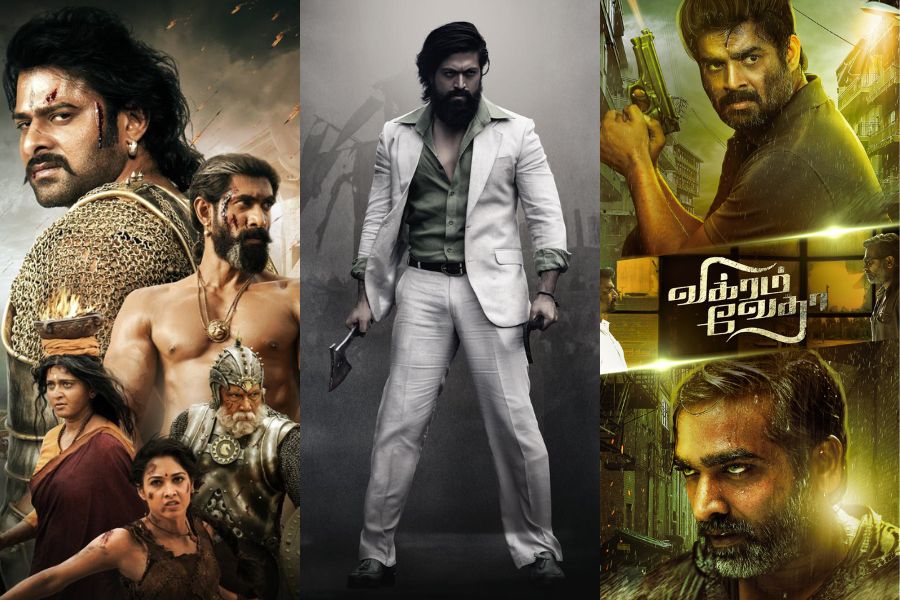 Time for some action! Here you will experience the magic of Indian cinema at its core, where stories go where no one has gone before, where feelings flow deep, and where imagination has no bounds. When considering all of India's cinematic output, the southern film industry stands out as a shining example of the kind of greatness that has made an unforgettable mark on audiences around the world.
Each regional film industry has carved out its own distinct niche, thrilling viewers with its own brand of charm and inventiveness; from the breathtaking visuals of Tamil cinema to the compelling tales of Telugu cinema, from the soul-stirring melodies of Malayalam cinema to the adrenaline-pumping action of Kannada movie.
We're going on an exciting journey to reveal the top ten Southern films of all time, films that have not only influenced the film industry but also won the hearts of countless viewers around the world. Come and share in the enchantment of South Indian film with us as we honor the filmmakers' ingenuity, the actors' outstanding turns, and the timeless stories they told.
Grab some popcorn, settle down, and prepare to be immersed in the world of cinematic greatness as we count down the top 10 films from the South that have captivated and inspired audiences for decades. In these movies, you will enter a world where dreams come true, emotions run wild, and every shot tells a story that will live on forever. Start your cinematic journey right now!
Top 10 South Movies
Baahubali: The Beginning (2015)

Baahubali: The Conclusion (2017)

KGF: Chapter 1 (2018)

Vikram Vedha (2017)

Iruvar (1997)

Kabali (2016)

Visaranai (2015)

Anniyan (2005)

Bangalore Days (2014)

Drishyam (2013)
Baahubali: The Beginning (2015)
Get ready to be amazed by the epic movie's massive power, which was directed by the brilliant S. S. Rajamouli. With an impressive ensemble cast, stunning scenery, and an enthralling plot, it became a worldwide phenomenon. Join a young prince on his mission to reclaim the throne and save his country from a wicked emperor's control. Keep your eyes peeled as this exciting story develops!
Baahubali: The Conclusion (2017)
This captivating follow-up, likewise directed by the talented S. S. Rajamouli, continues the saga. The trip only gets more intense as all the important questions that were left unresolved in the first portion are answered here. As you watch the spectacular end to this big narrative, prepare yourself for a wild trip.
KGF: Chapter 1 (2018)
With this captivating film, directed by Prashanth Neel, enter the grimy world of the Kolar Gold Fields region of Karnataka in the 1970s. Follow a young man's incredible story as he rises from poverty to become a strong don. the success of this film was so immense that it paved the way for the highly anticipated sequel, KGF: Chapter 2. and Sequel was undoubtedly another hit in 2022.
Vikram Vedha (2017)
Prepare yourself for an exciting cat-and-mouse chase in this Pushkar-Gayathri-directed Tamil neo-noir action thriller. Watch how the lives of a dedicated police officer and a notorious criminal unexpectedly collide in dramatic encounters. You'll be captivated by the creative plot and strong performances in this film.
Iruvar (1997)
Explore politics with the help of Mani Ratnam's deft direction of this Tamil-language political drama. The captivating story of the movie, which stars Mohanlal, Prakash Raj, and Aishwarya Rai, revolves around the complicated friendship and rivalry between two friends as they discuss the stormy world of politics.
Kabali (2016)
Join Rajinikanth in this action-packed gangster drama in Tamil, which is directed by Pa. Ranjith. As a former mobster returns to Malaysia, you can watch him seek revenge. The mesmerizing performance by Rajinikanth makes this film a real delight for his followers!
Visaranai (2015)
A thrilling crime thriller based on M. Chandrakumar's book "Lock Up" is about to begin. Buckle up. The film, which was directed by Vetrimaaran, sheds light on the situation of a group of migrant laborers who were wrongfully charged with a crime and exposed to horrible police brutality and corruption. Be ready for a captivating and fascinating experience.
Anniyan (2005)
Enter the fascinating universe of this psychological thriller written in Tamil expertly created by Shankar. As he portrays a young man with multiple personality disorder, Vikram's outstanding performance will astound you, and the unexpected turns and turns will have you fascinated till the very end.
Bangalore Days (2014)
Discover the appeal of this endearing Malayalam coming-of-age story, which the filmmaker Anjali Menon has brought to life. Follow the lives of three cousins as they travel to Bangalore to achieve their aspirations. Their paths cross through tears and laughter, weaving a story of love, friendship, and self-discovery.
Drishyam (2013)
This Jeethu Joseph-directed crime thriller in Malayalam promises to be a thrilling ride. Watch the lengths a father will go to defend his family when they become involved in a crime. This film is a must-see because of its engaging plot, superb performances by Mohanlal and Meena, and surprising turns.
There you have it, however! The South Indian film industry brought upon us a staggering variety of cinematic marvels, each of which has left a lasting impression on our hearts. These top 10 films have something to offer everyone, whether you're a die-hard lover of dramatic dramas, heartwarming love stories, or action-packed adventures. Grab some popcorn, settle in, and enjoy an incredible journey thanks to these cinematic treasures!