VMIN Soulmates Forever: BTS V and Jimin Cute Friendship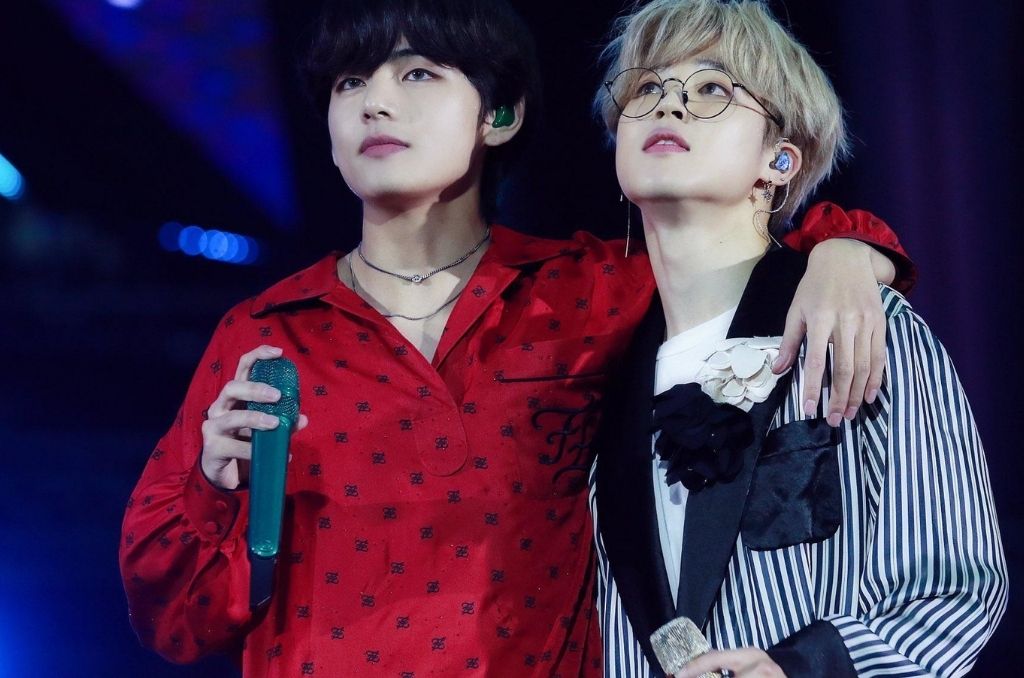 Taehyung and Jimin, both members of BTS, are regarded as two of the group's closest friends. On and off-camera, Taehyung (V) considers Jimin to be his best buddy. Jimin and V were friends before they joined BTS and attended the same high school. They later auditioned for Big Hit Entertainment and were accepted as BTS. V and Jimin are more like family to one other. This V and Jimin combo, commonly known as #vmin or #95z, is true friendship goal. ARMYs frequently wish for a soulmate, someone who will hold their hands in the same perfect trust and eternal love that V holds Jimin's.
Hey, You are my soulmate – VMIN
BTS Jimin and v share a special bond. In Run BTS, BTS going through different adventures. All members tented went bungee jumping and shared a lot of cute moments. Jimin and V have again demonstrated why they are called soulmates in all episodes. The fandom now has enough proof to show that Vmin are soulmates once more. Jimin and V had a Weverse talk around 4 a.m. KST that gave ARMY huge Vmin vibes. "You are my soulmate," has become a slogan for BTS members Jimin and V's everlasting connection.
Taehyung letter for Jimin
Taehyung's letter to Jimin is direct from his heart. All BTS fans, especially vmin lovers, are fully aware of this moment. V wrote a message to Jimin, addressing him as his best buddy, even during the Bon Voyage Season 2, Episode 8 shoot in Hawaii.  Taehyung grieved after hearing jimin's letter for him, Taehyung and Jimin wrote letters for each other. When he read his own letter to Jimin, he became emotional as well. After saw this adorable Vmin video, we were moved to tears as well.
It's a lot of fun to watch Vmin when they're in one team.
Whether it's Run BTS, BTS in Soop, Bon Voyage, or another show, whenever Jimin and Taehyung are on the same team, a lot of fun happens. Usually, when they're together, they just enjoy the moment. And when they're having fun, it's over warming for us. When they were both together in the Run BTS episode, the episode turned out to be a lot of fun. It makes no difference whether they win or lose. They are the stars of the Episode.
Care for each other.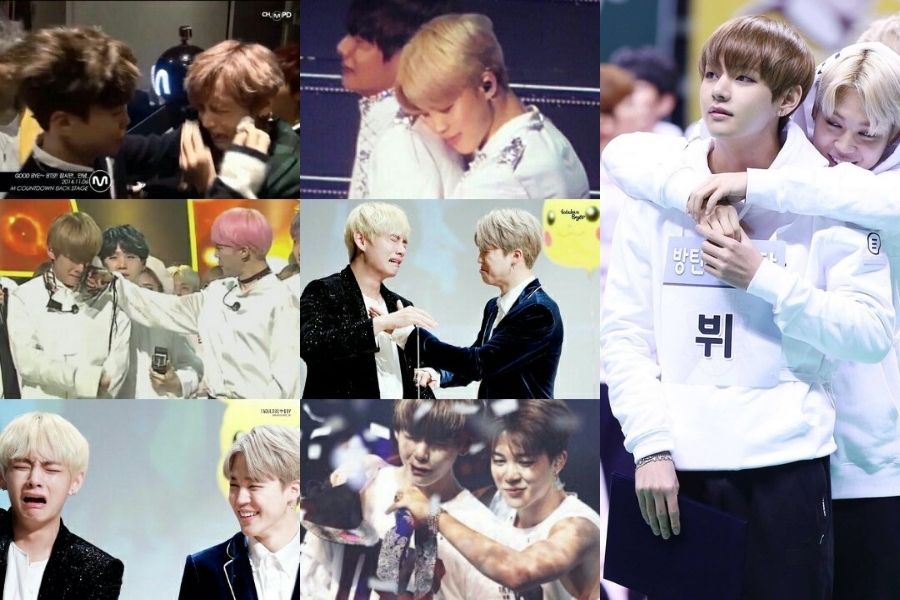 They are both quite considerate of one another. Jimin is usually comforting V when he was feeling not well. Both of them pushed each other to attempt new things. When Jimin was ill, all of the members were concerned, but you can notice v's expression. He was heartbroken to see Jimin in such poor health. Due to throat soreness, Jimin was also concerned when he heard Taehyung crack voice. They're both very caring people.
Vmin Live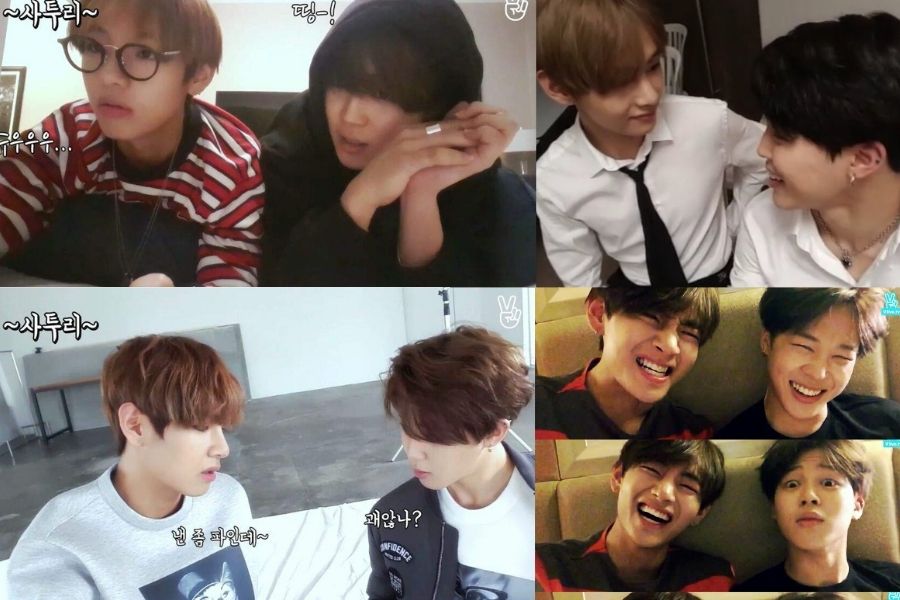 It's been a long time since Jimin and Taehyung had done a live broadcast. They both come live a lot in the initials years of BTS's debut. That was a lot of fun to watch them when they come to live. They spend a lot of time playing with each other, eating, and answering the questions of fans. Fans of Vmin frequently post about V live on Twitter. They are waiting for their live with great excitement. Hope so we will get soon Vmin V Live.
Sharing same room during their shows
During a BTS in the soop and bon voyage seasons, they shared the same room. They both made the decision to share a room. During Run BTS, each member must choose a room. without informing one another Jin, Jimin, and Junngkook were all in the same room, therefore it was up to Taehyung to pick a room. Jin and Jungkook hid in plain sight to surprise Taehyung. When Taehyung entered the room and spotted Jimin alone, he was overjoyed. He jumped on the bed with excitement. But that happy look turned a little sad when he learned that he would not be sharing a room with Jimin, but aslo with Jin and Jungkook, which was a hilarious scene.
Jimin and Taehyung "friends" Song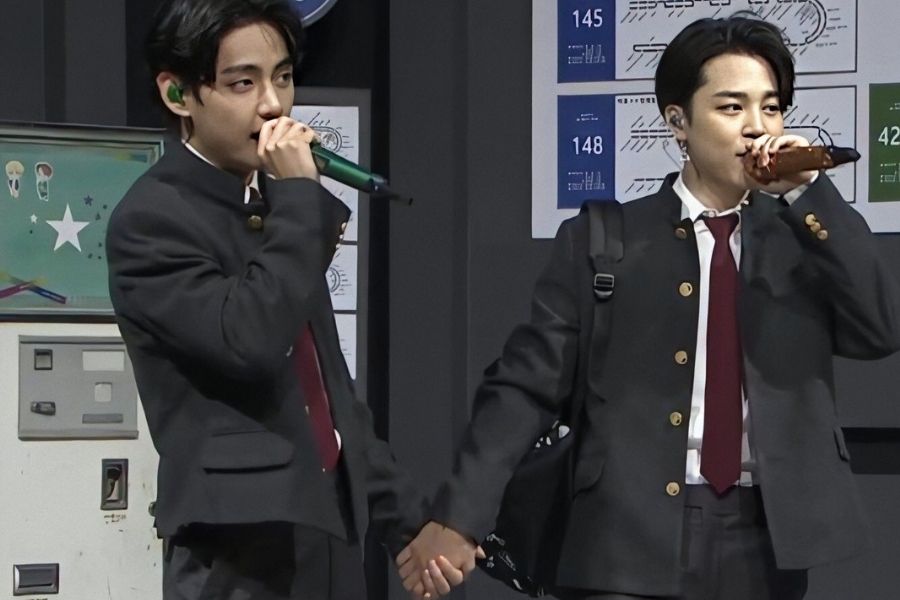 BTS's Jimin co-wrote the song "Friends" with V. How can we forget Vmin's Friends song when we're talking about Taehyung and Jimin? They include all cute moments that highlight their friends in the song, whether it's about the school, pinky finger, or a dumpling fight.
Capturing each other on the set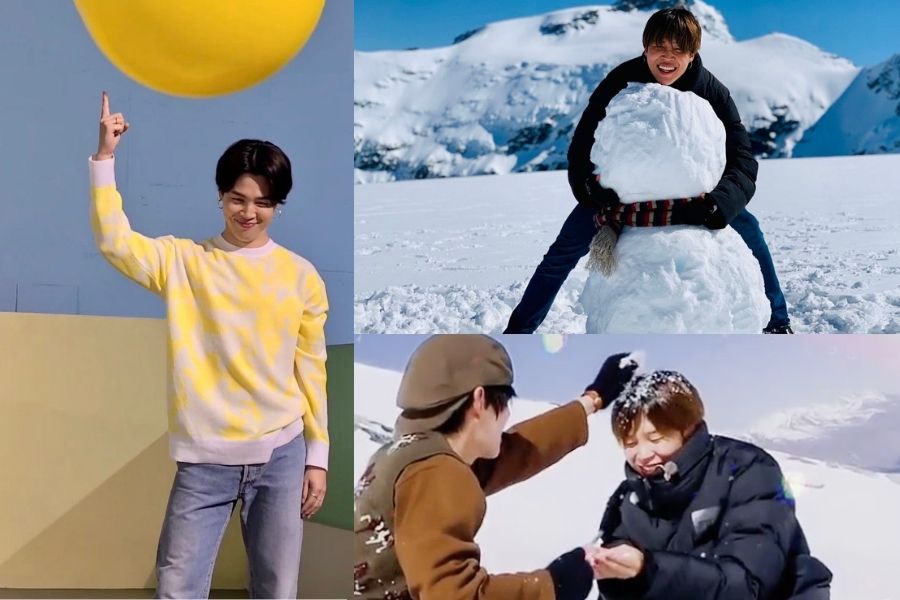 When they're together, as we are already mentioned, they're both on another level. They had a fantastic time. They are constantly capturing lovely moments.  Taehyung was uploading a video of Jimin. ChimChim was seen in the video enjoying himself on the sets with an oversized balloon. When he tries to put the balloon on his finger for a photo, it bounces off Mochi's head, Jimin and Taehyung both giggles on at moments.
Jimin pinky Finger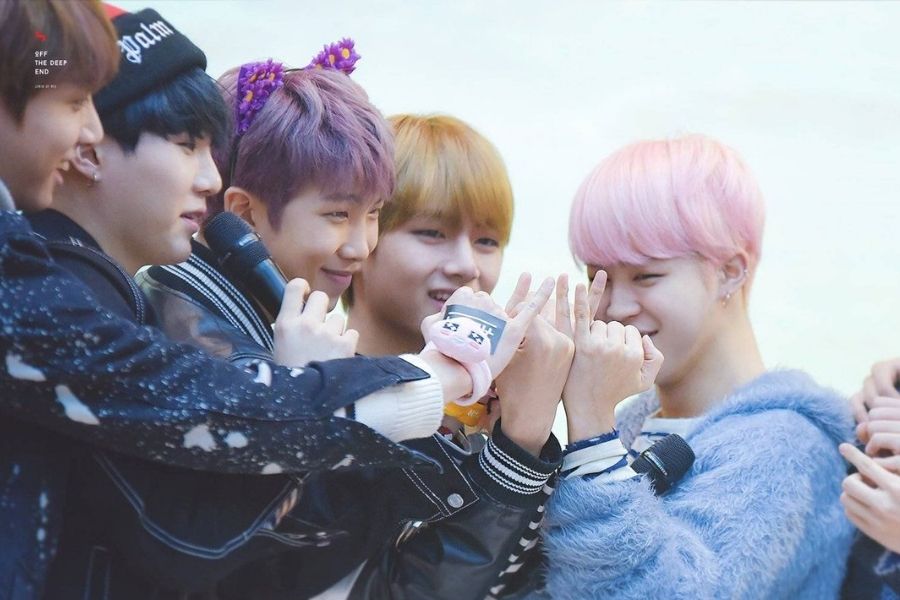 We've all heard of the adorable jimin. Jimin, who has small hands, expressed admiration for V's large hands. He even stated that because his hands are small, he is unable to properly hold a microphone and spin it because his hands have puffy.  There are several situations when V compares his pinky figure to Jimin's. In the image, You can spot the difference. This is one of the cutest aspects of their friendship. When they talked about their friendship in the friend unit song interview. Taehyung stated that Jimin's pinky figure has increased recently.
Jimin, I like you the most – Taehyung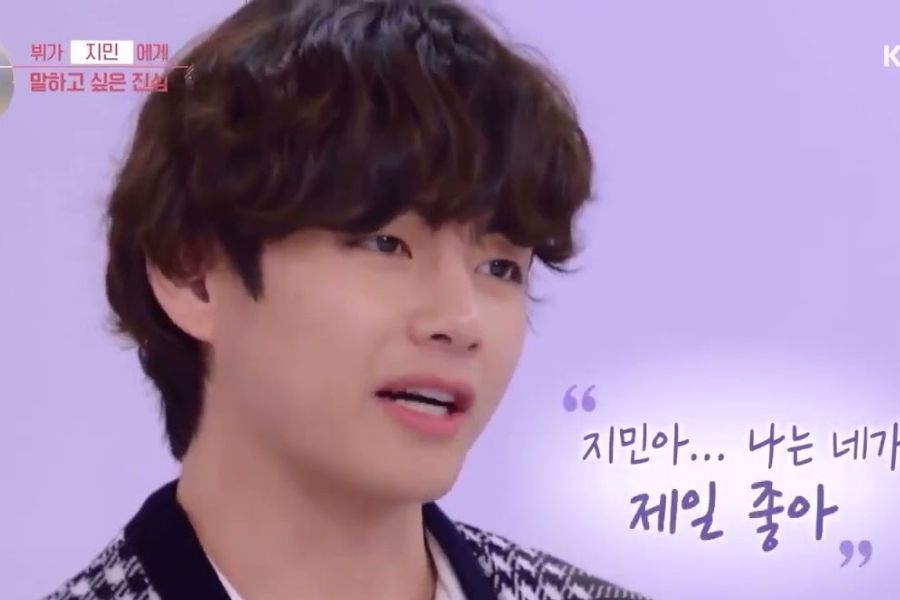 During a special talk show with BTS in 2021, they must write something to another member about what they want to tell them with acceptance of the latter. V wrote about Jimin at the moment, "Jimin, I like you the most," with a lot of emotion. Jimin was blushed and timid after he said, "I like you the most, too." When Jimin received the letter and said, "Let's wrap up the talk show," all of the BTS members were stunned, but once the letter was disclosed, everyone was overjoyed. Suga has a different reaction, but that was hilarious.
Jimin thoughts about Taehyung
In their video, Jimin and V discussed their unit song, how they have evolved in their twenties, and more. When questioned about the changes they've gone through while they were teenagers and twenties together, Jimin said he's gotten more patient with V. I think I've improved my patience… Everyone would agree, but if you're close to someone, you feel free to provide recommendations and express your opinions. Now I have more patience and can understand why he acts the way he does, what he's thinking, and why he says what he says. We've spent so much time together now. However, in order to become like us, you must spend so much time together. That, I believe, is what it means to be "friends." We still have a lot of work to do and a lot more to learn. As a result, I believe there is potential for improvement.