McDonald's BTS meal launched on Wednesday with McNuggets and spicy dipping sauces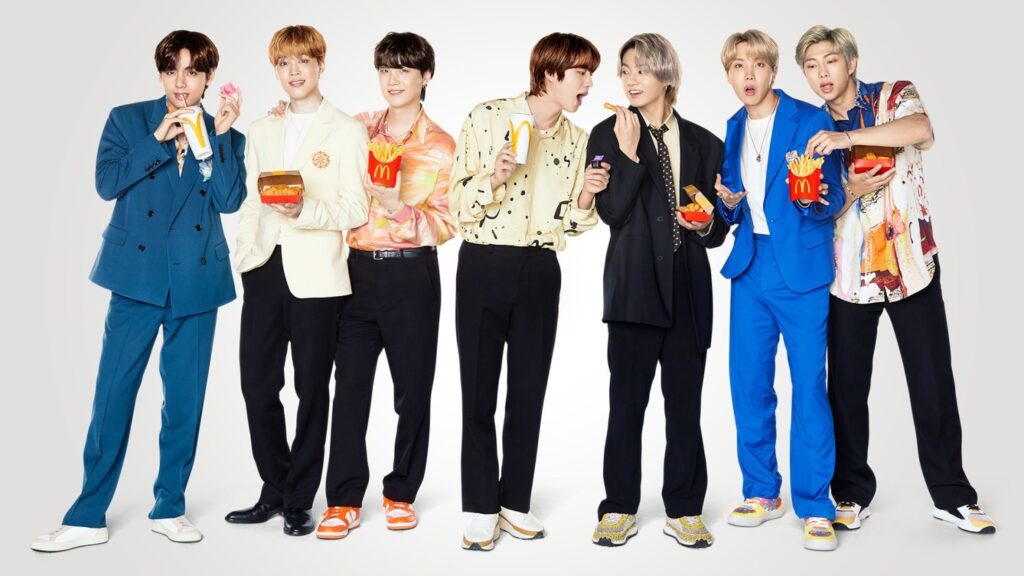 Finally McDonald's BTS meal is Here
BTS Meal is finally available at McDonald's locations in the United States, the Bahamas, Canada, and eight other countries on Wednesday, less than a week after the K-pop superstars released their new English-language single "Butter." The meal comes with a 10-piece Chicken McNuggets, medium fries, a medium Coke, and Sweet Chili and Cajun dipping sauces, which are available for the first time in the United States. The sauces are said to be based on popular recipes from McDonald's restaurants in South Korea, where the BTS is from.
The meal will be available in the United States until June 20th and will come in 11 additional nations on Thursday, including South Korea. In May and June, it will be available in roughly 50 countries.
Customers in the United States can order the BTS Meal in restaurants and drive-throughs, via mobile order through the McDonald's app, or using McDelivery, the chain's delivery service.
Jungkook said, "McDonald's is like a friend who has always been there for me."
In a statement, BTS member Jungkook said, "McDonald's is like a friend who has always been there for me." "The definition of happiness is burgers, fries, and soft drinks."
McDonald's will unveil a new TV commercial incorporating the band's tune "Butter" on Wednesday night. Through the McDonald's app, the fast-food giant will also "unveil never-before-seen digital surprises each week featuring the band," according to the company.
There's also a drop of BTS McDonald's merchandise.
McDonald's and BTS released a retail line on the Weverse Shop app starting at 7 p.m. EST on Wednesday. The "head-to-toe collection is inspired by some of the crave-able, hand-picked menu items from the BTS Meal, including dynamite threads including sweatshirts, purple bathrobes, socks, and shoes," according to a press release from McDonald's. You'll need to download the Weverse Shop app and establish an account to shop the collection.
McDonald's has already collaborated with celebrities on special meals.
The month-long Travis Scott partnership – the first time a celebrity's name has been on the menu in the United States since 1992 – resulted in shortages of crucial supplies across the country in September. McDonald's released the J Balvin Meal in October, featuring the award-winning reggaeton performer.
BTS's "Butter" is the group's second English single. The septet's most recent hit in English, "Dynamite," landed at number one on the Billboard Hot 100 and garnered BTS a Grammy nomination for Best Pop Duo/Group Performance.