Jungkook Tattoos: Meaning behind Each Tattoo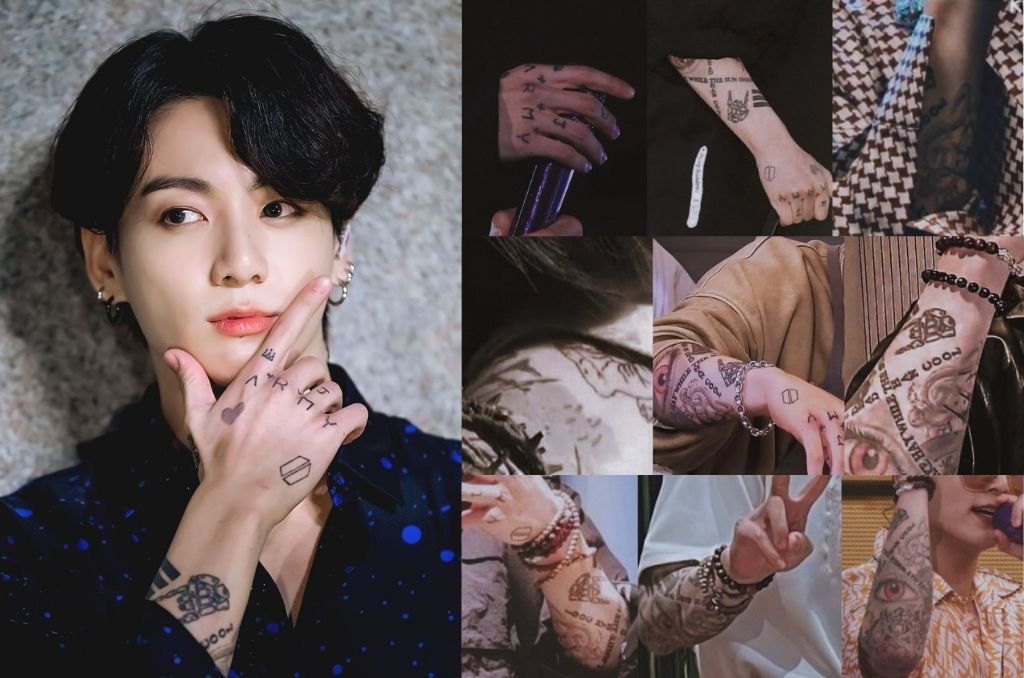 Do any of the members of BTS have tattoos? Do any of the members of BTS have tattoos? Although the answer to that is yes, not every member have. Jungkook and Jimin are the only members who have tattoos. Let's have a look at Jungkook tattoos and the reasons behind them! For various reasons, some members did not tattoo. Let's hear what he has to say about it.
When BTS took their first long break in early September 2019, the first tattoo witness was revealed. Jungkook returned to his hometown of Busan. A K-ARMY recognised him (what a blessing), asked for a sign, and then noticed something on his hand that looked like tattoos with the word 'ARMY' written on it.
Then, on September 16, the vacation came to an end, and everyone met at the airport. This is where the first tattoo photo is taken. ARMYs debated whether henna or a genuine tattoo is better.
Meaning of the Jungkook tattoos:
ARMY: The BTS fandom ARMY 

RM: Namjoon

MY:  Min Yoongi

J: Jin, Jungkook, J-hope

+++: Bonding BTS and ARMY together 

Purple heart: Borahae (I purple you)

The crown: BTS is the King

A: V for Taehyung

JM: Jimin
Jungkook's right thumb has the number "0613" tattooed on it. Fans believe it refers to June 13, 2013, the day BTS debuted. In the Seoul Final Concert, the tapped-arm mystery was ultimately (half-open) revealed for ARMY. But it's still covered beneath the sleeves. 
A red eye: meaning is known and that a more comprehensive picture is required.
The meaning of the rock and roll skeleton is unknown, although he enjoys rock music.
'Make hay while the sun shines' has an unclear meaning.
There are three stripes: Taegeukgi is the first component of the Korean national flag. Each of the individual elements has a meaning, and the (gun) on JK's arm signifies "the East, the Sky, and the Spring."
Jungkook's other tattoo Tiger Lily and letters underneath are visible in the Korean MV for 'ON' in 2020.
His birthday flower is the tiger lily (September 1st).
Please Love Me: The flower language of the tiger lily is "Please Love Me," -which is written below the Tiger Lily/Tiger Flower.
Another fresh tattoo is discovered in the Kinetic Manifesto Film of 'ON' ARMY (inner arm). Whoever was the first to notice it had CRAZY eyesight.
Truth: It's difficult to read the words, but the ARMY assumes it means "TRUTH." Because his friends Mark and Yugyeom, both K-pop artists, have tattoos on the same location.