BTS' Song 'Butter' is Finally Out: BTS Pays Tribute to their Fans in the Song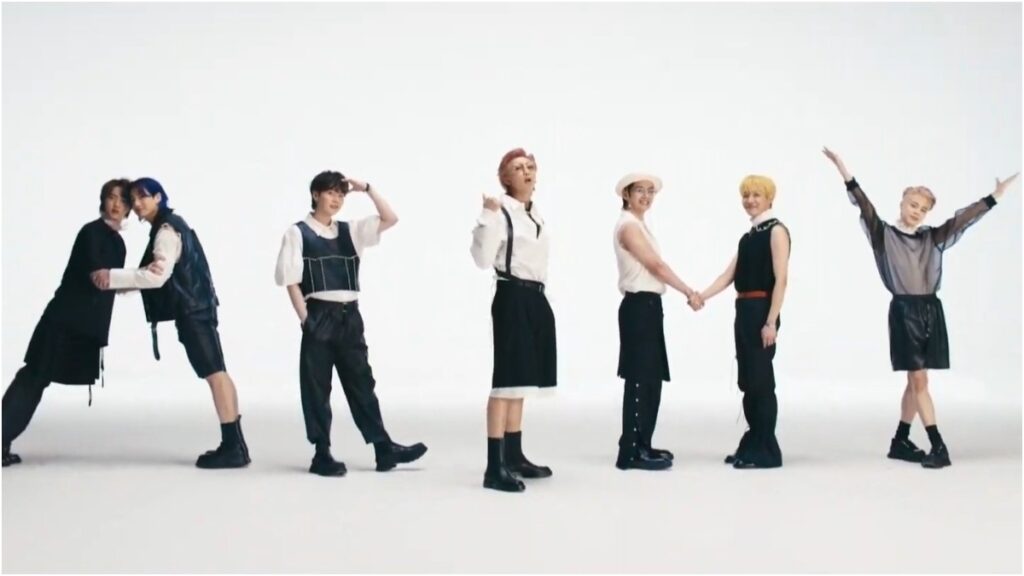 Finally, the wait is over as BTS has released their most awaited single 'Butter' in which they pay tribute to their fans. On YouTube, the song received 20 million views in less than an hour. People are showering love and expressing their opinions about the song on social media.
ARMY Members are Using the Hashtag #BTSBackWithButter on Twitter
Members of the ARMY are using the hashtag #BTSBackWithButter on Twitter. Several fans stated that they are now "obsessed with the song," while others stated that this is the first time the K-pop boys have used the word "ARMY" in their song. Fans also linked it to the group's super-hit Dynamite from last year.
World TV debut of 'Butter' at the Billboard Music Awards 2021
Meanwhile, the K-pop band Boys announced recently that their new track Butter will make its world TV debut at the big Billboard Music Awards on May 23. BTS has also been listed in the category of Top Social Artist.
Butter is far different from 'Dynamite'
The groovy style has everything to make it a summer smash hit, from an '80s synth-bass fusion to an enthusiastic rap by SUGA and RM. There's no arguing that 'Butter' is far different from 'Dynamite,' showing their versatility as performers.
Tribute to BTS' Fans
It was impossible to miss RM, V, Jin, J-Hope, SUGA, Jung Kook, and Jimin's heartfelt dedication to their loyal BTS ARMY in between the black and white filter and the vibrant colors.
BTS 'Butter' Song Lyrics
Smooth like butter
Like a criminal undercover
Gon' pop like trouble
Breakin' into your heart like that(Jungkook) 
Cool shade stunner
Yeah I owe it all to my mother
Hot like summer
Yeah I'm makin' you sweat like that
Break it down(Taehyung)
Oh when I look in the mirror
I'll melt your heart into two
I got that superstar glow so(Jin)
Do the boogie like(RM)
Side step right left to my beat (heartbeat)
High like the moon rock with me baby(Jungkook)
Know that I got that heat
Let me show you 'cause talk is cheap(Jimin)
Side step right left to my beat (heartbeat)
Get it, let it roll(Taehyung)
Smooth like butter
Pull you in like no other
Don't need no Usher
To remind me you got it bad(Taehyung)
Ain't no other
That can sweep you up like a robber
Straight up, I got ya
Makin' you fall like that
Break it down(Jin)
Oh when I look in the mirror
I'll melt your heart into two
I got that superstar glow so(Jimin)
Do the boogie like(Rm)
Side step right left to my beat (heartbeat)
High like the moon rock with me baby(Jimin)
Know that I got that heat 
Let me show you 'cause talk is cheap(Jin)
Side step right left to my beat (heartbeat)
Get it, let it roll(Jungkook)
Get it, let it roll
Get it, let it roll
No ice on my wrist
I'm that n-ice guy
Got that right body and that right mind
Rollin' up to party got the right vibe
Smooth like butter
Hate us love us(Suga)
Fresh boy pull up and we lay low
All the playas get movin' when the bass low
Got ARMY right behind us when we say so
Let's go(RM)
Side step right left to my beat (heartbeat)
High like the moon rock with me baby(Jungkook)
Know that I got that heat
Let me show you 'cause talk is cheap(Jin)
Side step right left to my beat (heartbeat)
Get it, let it roll(Jungkook)
Smooth like (butter)
Cool shade (stunner)
And you know we don't stop
Hot like (summer)
Ain't no (bummer)
You be like oh my god(J-Hope)
We gon' make you rock and you say (yeah)
We gon' make you bounce and you say (yeah)
Hotter?Sweeter!Cooler?Butter!(RM)
Get it, let it roll(Jungkook)