BTS 'Permission to Dance' Song Giving the refreshing vibes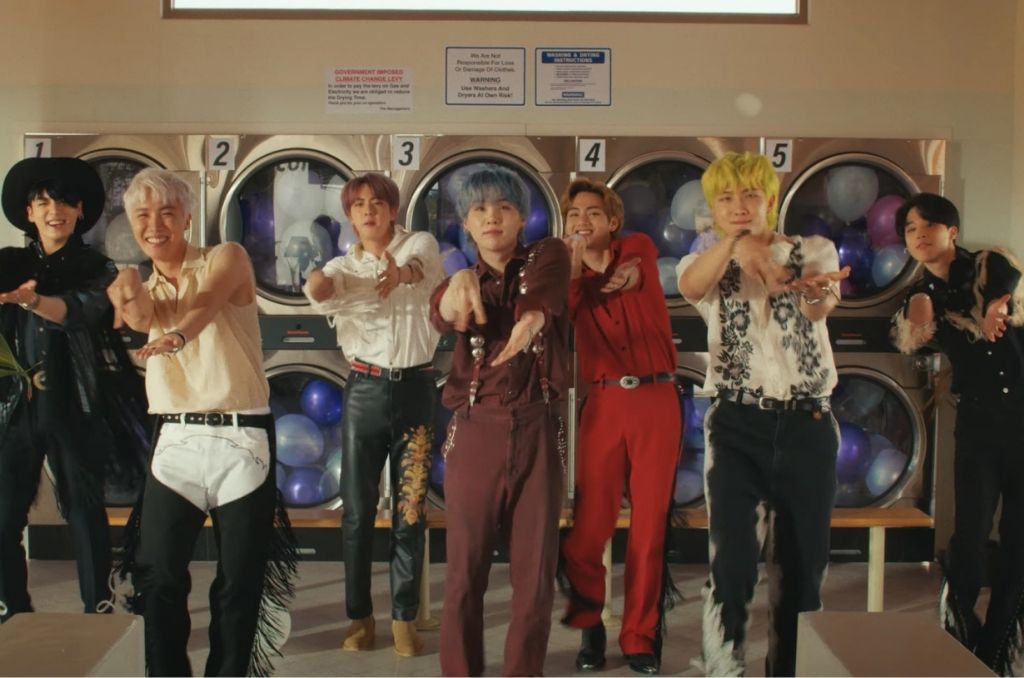 "Permission to Dance," a new song by BTS, has been released. The song is included on the "Butter" CD single, which was released on Friday and includes instrumental versions of each song.
Ed Sheeran, Steve Mac, Johnny McDaid, and Jenna Andrews collaborated on the song "Permission to Dance," which was produced by Mac, Andrews, and Stephen Kirk. The song is all about upbeat grooving and having a good time, as the title suggests. RM, Suga, J-Hope, Jung Kook, V, Jimin, and Jin dance outside in a sunny location, at a laundromat, and on a patio in the accompanying film. From office and school staff to kids on a tennis court, the upbeat music urges others to dance to the beats.
'Permission to Dance' Song Giving the refreshing vibes that make your mind blow
"We wanted to produce a song that's incredibly peppy, that's truly a summer tune that, as you mentioned, makes people happy and go out and dance," BTS told Zane Lowe of "Butter" and its goal via an interpreter in May. That is exactly what we intend to do. We wanted a summer tune that could help folks heal and console them. That is why we chose this song and decided to release it. Because this is such a delightful tune, we all listened to it together once we finished recording it. Then we said to each other, 'This is fantastic.' This is a great song.'"
BTS' new track 'Permission to Dance' is reminding fans of One Direction 'What Makes You Beautiful'
While ARMY is grooving to the funky beats, the reactions from other music fans on Twitter are extremely interesting. Many people have rushed to social media to say that the new BTS song reminds them of One Direction's famous singles. The guitar starts to 'Permission to Dance' sounded eerily similar to One Direction's 'What Makes You Beautiful,' which music fans couldn't help but notice. "Sorry, but… THEY ARE USING THE INTRO THAT MAKES YOU BEAUTIFUL? Then there's Sampling, who says, "I want to dance with someone!" "a fan asked
BTS to perform 'Permission To Dance' for the first time on 'The Tonight Show'
The group will play "Permission to Dance" during their two-night engagement on The Tonight Show Starring Jimmy Fallon on July 13th and 14th, marking the song's live debut on a US television show.
BTS recently celebrated their eighth anniversary with Muster Sowoozoo, a unique two-day streaming event. They unveiled a series of Funko pop toys based by their first English language single, "Dynamite," earlier this month. Other brands with which the organisation has partnered include Casetify, Samsung, Louis Vuitton, and McDonald's.
Permission to Dance Lyrics
Verse 1: Jungkook, RM
It's the thought of being young
When your heart's just like a drum
Beating louder with no way to guard it
When it all seems like it's wrong
Just sing along to Elton John
And to that feeling, we're just getting started
Pre-Chorus: Jimin, Jin
When the nights get colder
And the rhythms got you falling behind
Just dream about that moment
When you look yourself right in the eye, eye, eye
Then you say
Chorus: Jungkook, V
I wanna dance
The music's got me going
Ain't nothing that can stop how we move, yeah
Let's break our plans
And live just like we're golden
And roll in like we're dancing fools
Post-Chorus: Jimin, RM, Jin
We don't need to worry
'Cause when we fall, we know how to land
Don't need to talk the talk, just walk the walk tonight
'Cause we don't need permission to dance
Verse 2: J-Hope, Suga, Jungkook
There's always something that's standing in the way
But if you don't let it faze ya
You'll know just how to break
Just keep the right vibe, yeah
'Cause there's no looking back
There ain't no one to prove
We don't got this on lock (Yeah)
Pre-Chorus: V, Jungkook, Jimin
The wait is over
The time is now so let's do it right, mm (Yeah)
Yeah we'll keep going
And stay up until we see the sunri-i-ise (Yeah)
And we'll say
Chorus: V, Jin
I wanna dance
The music's got me going
Ain't nothing that can stop how we move, yeah
Let's break our plans
And live just like we're golden
And roll in like we're dancing fools
Post-Chorus: Jungkook, J-Hope, Jimin
We don't need to worry
'Cause when we fall, we know how to land
Don't need to talk the talk, just walk the walk tonight
'Cause we don't need permission to dance
Bridge: Jin, Jungkook
Da-na-na-na-na-na-na
Da-na-na-na-na-na-na
Da-na-na-na-na-na-na
No, we don't need permission to dance
Da-na-na-na-na-na-na (Hey)
Da-na-na-na-na-na-na
Da-na-na-na-na-na-na
Pre-Chorus: Jimin, V
Well, let me show ya
That we can keep the fire alive, mm
'Cause it's not over
Till it's over, say it one more time
Say
Chorus: Jungkook, Jimin
I wanna dance
The music's got me going (Music's got me going)
Ain't nothing that can stop how we move, yeah (Hey, yeah)
Let's break our plans
And live just like we're golden (Ooh)
And roll in like we're dancing fools (Like we're dancing fools)
Post-Chorus: Jin, Suga, V, Jungkook
We don't need to worry
'Cause when we fall, we know how to land (We know how to land)
Don't need to talk the talk, just walk the walk tonight (Ooh)
'Cause we don't need permission to dance