BTS collaborate with McDonald's to launch BTS Meal around the world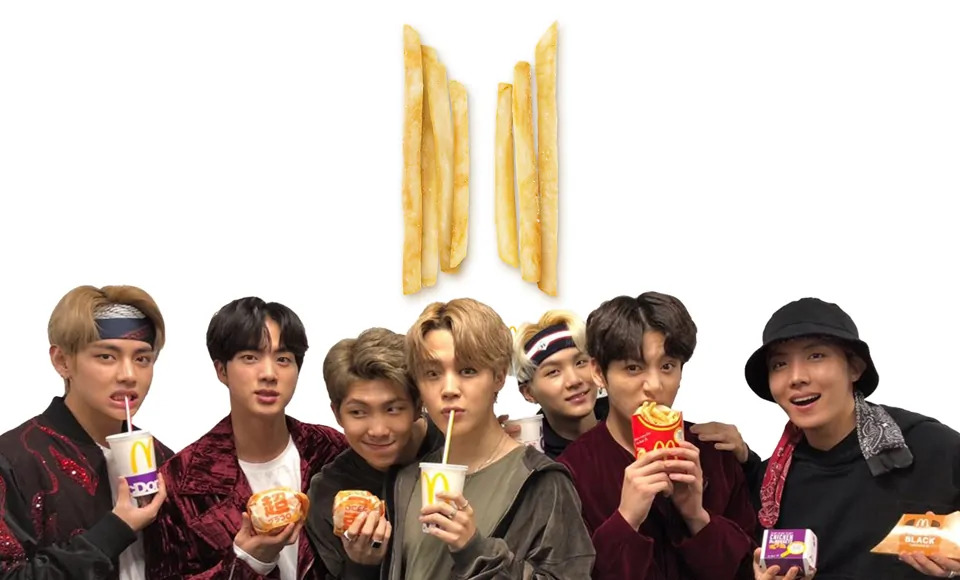 On Monday morning, McDonald's Corp announced the forthcoming BTS meal, a menu partnership with the Grammy-nominated boy band, on Twitter. Specialized BTS burgers and whole fast-food meals based on the iconic band will be available soon at a renowned burger chain's international locations.
A 10-piece chicken McNuggets, Sweet Chili, and Cajun dipping sauces inspired by the McDonald's menu in South Korea, a medium-sized Coca-Cola, and medium-sized French fries will be included in the meal. Meanwhile, the news sent ARMY into a frenzy as fans couldn't stop themselves from cheering! ARMY has also requested a special 'Purple Mc Oreo Flurry version' for Taehyung, as this is his favorite flavor!
The K-pop band's junk food will be released as a customized 'BTS Meal' next month, in as many as including South Korea, the United States, Australia, Brazil, and India. Throughout the rest of May and June, the meal will be available in other parts of the world, eventually reaching 50 nations. This will be the first McDonald's celebrity meal to be available worldwide.
As part of the company's new Famous Orders project, McDonald's has previously had successful partnerships with musical acts such as Travis Scott and J Balvin.
The Travis Scott partnership was credited with boosting revenue in September 2020. McDonald's claims that the meals together drove profits in the second half of the year. Furthermore, these meals appeal to a younger demographic, as well as McDonald's app users who earn discounts for ordering online.
On Twitter, BTS has 34.5 million followers, 40 million on Instagram, and 31.8 million on TikTok. According to BBC News, the K-pop group was the best-selling act of 2020.
The news of the 'BTS Meal' has sent ARMY into a frenzy, with many taking to Twitter and Instagram to express their joy. This isn't, however, the first time such a partnership has been established. Last year, the fast-food chain teased other popular orders in a Super Bowl ad featuring Kim Kardashian, Kanye West, Whoopi Goldberg, Magic Johnson, Keith Urban, and others.
J-Hope, Jimin, Jin, Jungkook, RM, V, and SUGA are members of BTS.
Would you be interested in trying McDonald's new BTS meal?
Read about "BTS' Dynamite continues to set milestones; check out how it has now entered the Guinness World Records"