Zayn Malik slams Grammy Awards "Unless you shake hands and send gifts, there's no nomination considerations"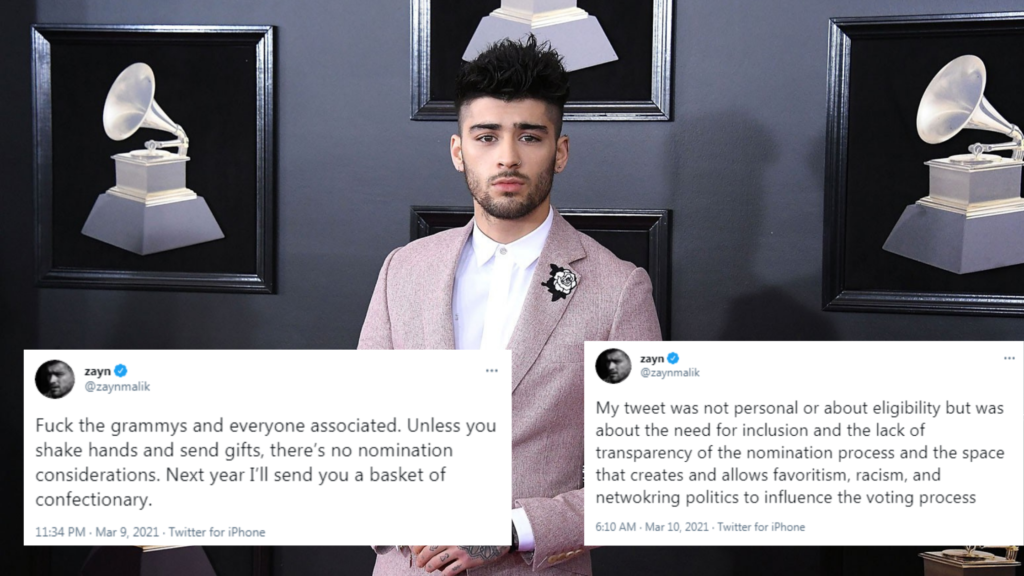 On Twitter, Zayn reacted to grammy, and on Tuesday (March 9), five days before the 63rd Annual Grammy Awards, he sounded-off on the Recording Academy.
The former one Direction member and became a father recently, Zayn Malik has called out the Grammy Awards for the recent nomination.
Zyan showing his frustration on Twitter over the process of recent Grammy award nominations. "take a look"
Fuck the grammys and everyone associated. Unless you shake hands and send gifts, there's no nomination considerations. Next year I'll send you a basket of confectionary.

— zayn (@zaynmalik) March 9, 2021
My tweet was not personal or about eligibility but was about the need for inclusion and the lack of transparency of the nomination process and the space that creates and allows favoritism, racism, and netwokring politics to influence the voting process

— zayn (@zaynmalik) March 10, 2021
This time, the Recording Academy recently explaining that in each of the categories that are reviewed, nomination review committees are presented according to an alphabetical list of the highly vote-gainer by rank-and-file voters. Then they will listen, discuss and vote. Only their votes alone determine the final nominations.
According to rules, the eligibility period of 2021 Grammys began on 1 September  2019 and ended on August 31, 2020.
Zayn's name hasn't been nominated for a 2021 Grammy, and that's why people and his fans assumed that this is why he was frustrated and has been triggered by the nominations so badly.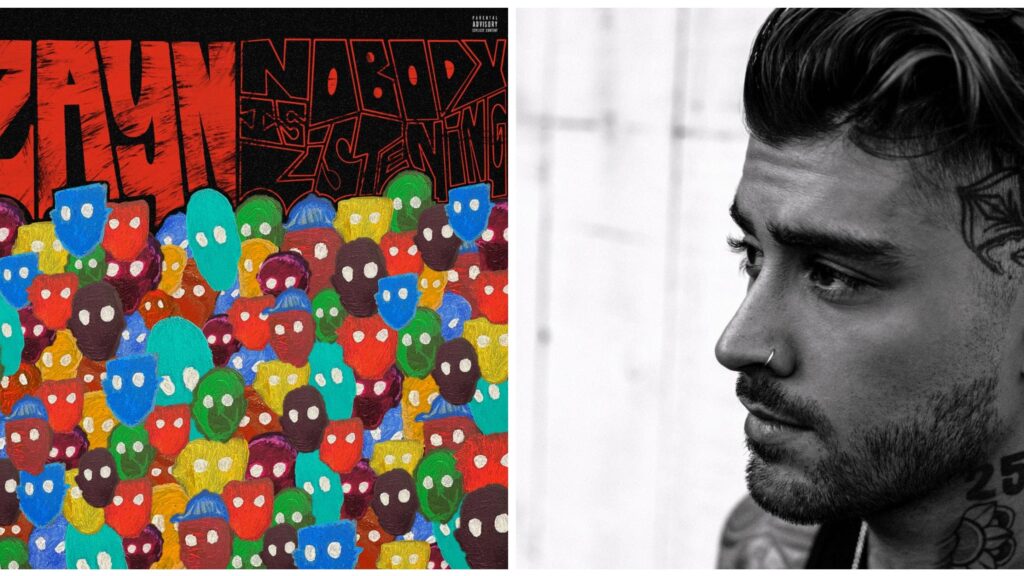 Zayn's recent and third album, "Nobody Is Listening", was released in January 2021, so that didn't make the eligibility period to receive a nomination, which is from September 1, 2019, to August 31, 2020, that's why his album could not be considered for a Grammy.
His single "Better," also dropped a month after the deadline. The late dropping date seems to keep missing the eligibility dates, here again, he misses the eligibility time.
Taylor Swift's and his collaboration "I Don't Wanna Live Forever" from the film Fifty Shades Darker got a 2018 Grammy nomination for best song written for visual media, Although, the only people credited were the songwriters were Taylor Swift, Jack Antonoff, and Sam Dew
As Selena Gomez also isn't up for any Grammys nominations this year that why Selena and Zayn's fan showing angry reaction on tweeter
I feel sorry for those who think that people like ZAYN MALIK and SELENA GOMEZ need the Grammys.. Well in fact, it's the Grammys that need them.
ZAYN DESERVES BETTER
WE LOVE YOU SELENA pic.twitter.com/vTXUQbOKCm

— ◟̽◞̽ Zahra ❱❱❱❱ (@gldnswtcreature) March 10, 2021
zayn literally made an album titled nobody is listening and it's never been more true. shut up and listen to the man.

WE LOVE YOU ZAYN
ZAYN DESERVES BETTER pic.twitter.com/ZDZ3sO2Hni

— Dhanushri (@_dhanyaa) March 10, 2021
Zayn is the fucking best, the fact that he need it to explain himself because stupid people where twisting his words… and everyone could talk shit about the Grammys but when zayn said it he's wrong… I hate people
ZAYN DESERVES BETTER
WE LOVE YOU ZAYN pic.twitter.com/urERTC0bae

— B ◟̽◞̽ | Jimmy Woo is the best (@BelaMalik289) March 10, 2021
i repeat again "zayn never need a grammy, im what a grammy need"

we love u @zaynmalik

ZAYN DESERVES BETTER pic.twitter.com/sayIkIGFFb

— jodohmu🦋✨ (@oochyst_) March 10, 2021
No need to explain yourself!!! Ever word you said is the truth unfortunately but that's just how industries are… messed up!!! And it's unbelievable how media just twists words around! We love you zayn and your music meanings the absolute world to us!! ZAYN DESERVES BETTER ❤️ pic.twitter.com/4lSrgKqu1L

— Diana♡ (@_cuddlytommo) March 10, 2021