Outcry's genuine tale is about a falsely convicted Paedophile.
Greg Kelley was an outstanding football player for his high school and was on the verge of receiving a scholarship to the University of Texas, where he planned to play for the Longhorns. His world came crashing down when he was accused of abusing a young kid of four.
Outcry is a documentary series on Stan about Kelley, who was just 17 years old when the allegations against him were first made. A senior at Cedar Park High School in Cedar Park, Texas, he had been staying with his buddy Johnathan McCarty's family due to the illness of his own parents.
His mother, Rosa, had a brain tumour, and his father, Douglas, had a stroke, so they had to be close to a hospital.
McCarty's mom, Shama, opened a daycare out of the family's house. A 4-year-old daycare student named "Greg" was accused of sexually abusing him in July 2013. They took Kelley into custody. Yet, it's possible that an instance of mistaken identification played a role.
Gaebri Anderson, Kelley's girlfriend, told the New York Post earlier this year, "From the first day, in my heart, I knew he didn't do this."
At its core, Sergeant Christopher Dailey's police inquiry never stood a chance.
Kelley was no longer residing with the McCartys at the time the incident was allegedly committed. He had left a month before. According to the complaint Kelley just filed, Dailey knew when Kelley had moved out but lied about it so he could press charges.
Two weeks after the initial child molestation complaint against Kelley, another youngster, aged four at the time, came forward to say that Kelley had molested him.
This youngster had previously denied any history of abuse during two separate interviews with a counsellor. Three separate interviews later, he finally admitted that Kelley had assaulted him.
When questioned again in court, the boy repeated his initial statement that Kelley had not touched him.
Kelley was given the option to plead guilty in exchange for probation and sex offender registration, which would have kept him out of jail. He said no to the offer.
He said to his mother, "No, I'm not playing this game because I'm not guilty and God is all about the truth."
In 2014, Kelley's trial began. He and his allies were certain that he would be found not guilty. They lacked any hard evidence to convict him. He was not there when the alleged attack took place. However, there was the boy's evidence.
Prosecutors said that Kelley compelled the minor to conduct oral sex with him while he was naked. They stated the kid "never wavers" in his belief about who abused him.
A witness was the boy's mother.
""When my son informed me about the assault, I was devastated," she recalled. You know, you wouldn't anticipate it coming from your four-year-old.
Patricia Cummings, Kelley's attorney, brought up "false charges" to try to prove that the youngster had never been assaulted. None of the possibilities that another person had abused the child were brought up by her.
Two charges of extremely aggravated sexual assault led to a 25-year prison term for Kelley. His loved ones and acquaintances were devastated.
His mother Rosa remarked, "This is a lie."
After researching the situation, Brydon grew to believe Kelley was innocent. He put up his own money to help get Kelley's conviction reversed, despite the fact that they had never met.
Who else could have molested the youngster if not Kelley? How, therefore, could the kid misunderstand those two people?
Johnathan McCarty, a friend of Kelley's, was still living at home at the time of the alleged abuse and missed a number of days of school.
The little victim, aged four, said that his abuser was dressed in SpongeBob pyjamas. A parent later stated in an affidavit that another youngster at the daycare had mistaken him for Kelley because of their striking resemblance.
To top it all off, another document claims McCarty informed him, "It was me, not Greg," while high on marijuana. I was the one who did that to the kid.
Cummings allegedly declined to name McCarty as a suspect when asked by Kelley's supporters.
It was revealed that Cummings had previously acted as counsel for many McCarty family members.
Kelley was imprisoned for three years while his supporters gathered evidence.
Each and every day, Kelley and Anderson exchanged phone calls. They communicated their feelings through letters. Kelley took up drawing and often wowed Anderson with his masterpieces. Anderson was encouraged to pursue her passion for dancing by Kelley, and she eventually relocated to Los Angeles.
Almost every weekend, he would get visits from Kelley's mom and Anderson's dad. A proposal for Anderson's hand in marriage was made by Kelley to her father during one of those weekend trips.
In jail, Kelley was able to make some acquaintances, but he said he always felt the need to explain himself to E! News.
The paedophile, he said, is "already the slime of the earth" on entry.
District Attorney Shawn Dick finally said that he had received "credible" information linking McCarty to the abuse in May of 2017.
Texas Ranger Cody Mitchell said that Cedar Park police had bungled the investigation, prompting a reopening of the case. He mentioned Kelley, McCarty, and an unidentified third suspect. The third individual staying in the McCarty home had been previously arrested for indecency with a kid.
Kelley was granted bail and freed from jail that August. During January of 2019, he proposed to Anderson, and the two were married by Brydon.
Anderson told the New York Post, "All the struggles and challenges have moulded us into a stronger team."
By the end of the year (November 2019), Kelley had been cleared of all charges. A member of the victim's family was among those he addressed.
""The judicial system let me and you down," he continued. "Today, justice was served to me, but you continue to fail. Equal treatment under the law should be granted to all victims on the first try.
What's up with McCarty, then?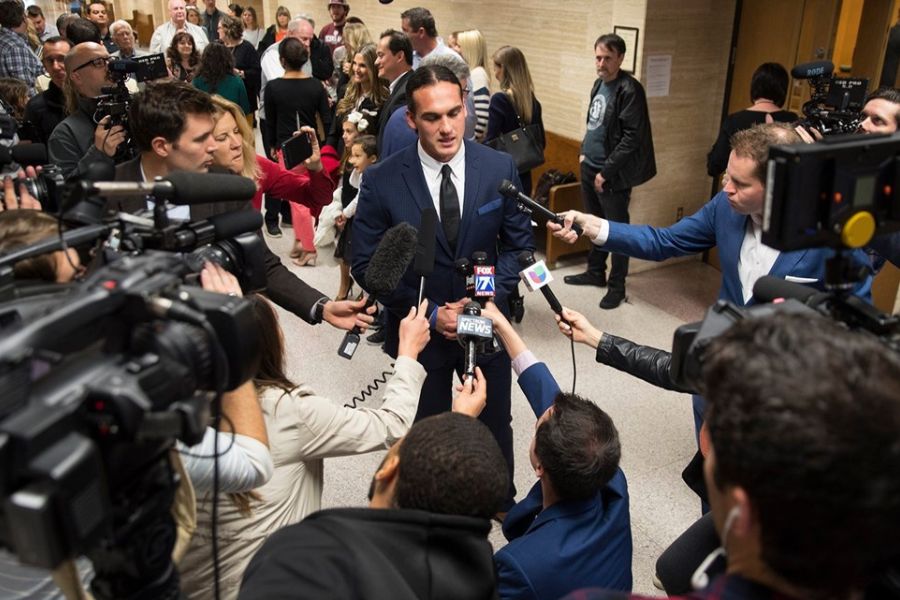 A lady came forward after McCarty was identified as a suspect in the child molestation case and stated he had drugged and sexually raped her when she was 15 years old. Following his guilty plea last year to charges of wrongful restraint and narcotics possession, McCarty was given a four-year prison term.
Kelley filed a lawsuit against the city of Cedar Park, former police chief Sean Mannix, and Sergeant Dailey in May of this year, alleging that their investigation was "incompetent, bad faith, and fundamentally defective."
The only thing he asked for was a handshake, an apology, and some sort of responsibility.
Kelley is now enrolled as a student at the University of Texas. A week ago, he posted on Instagram about how he finally felt like he had his life back, except for one thing: football.
A desire to "play, make plays, and be a kid again" was expressed in his writing. "I had to mature rapidly."
On July 5 2020, Outcry was released on Stan and is now accessible for streaming.