List of Upcoming Bollywood Movies Releasing In December 2022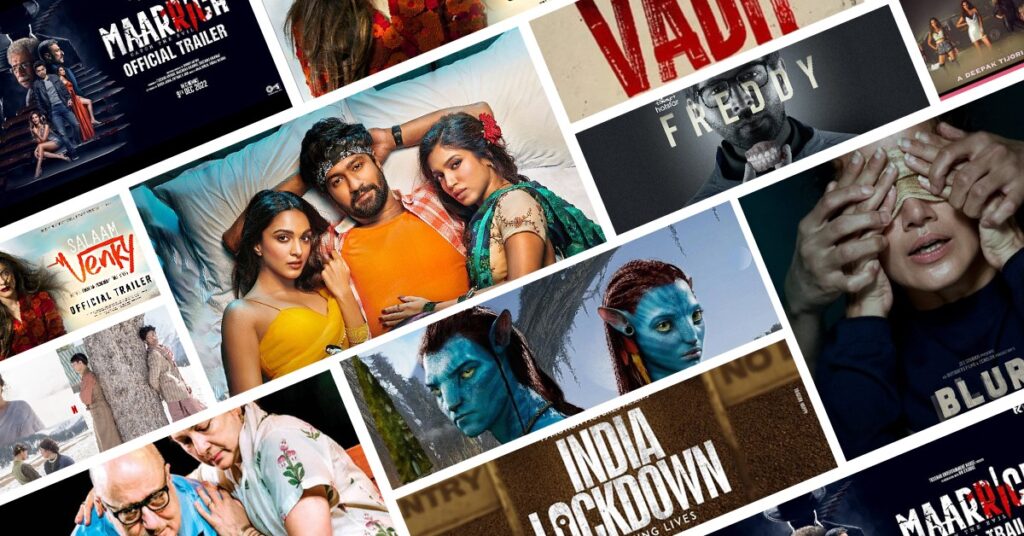 Genre-bending movies like "Bhediya" and "Monica, O My Darling" dominated the box office in November, surprising moviegoers with their success. There's a whole new batch of forthcoming Bollywood flicks to look forward to this December, and the schedule is as full as it gets. An Action Hero, starring Ayushmann Khurrana, is one of the most-anticipated releases of the month, which comes just in time for the holidays. In addition, Kajol's Salaam Venky, which seems to be an instant tearjerker, will debut on this packed schedule. The psychological thriller Blurr will feature Taapsee Pannu's return "dobaara" in a riveting thriller. Govinda Naam Mera, starring Vicky Kaushal, Kiara Advani, and Bhumi Pednekar, and Cirkus, led by Ranveer Singh, are two of the month's latter releases that you can't miss for its star power alone.
Here are the List of Upcoming Bollywood Movies Releasing In December 2022
Qala
Story: A gifted singer whose career is on the rise must learn to deal with the pressures of fame, her mother's disapproval, and the voices of doubt that she hears within herself. Her past continues to haunt her.
Cast: Tripti Dimri, Babil Khan, Swastika Mukherjee, Aashish Singh, Avinash Raj Sharma, Neer Raao.
Director: Anvita Dutt
Release Date: 1 Dec, 2022
Freddy
Story: This romantic thriller is full of unexpected twists and sharp turns, and the borders between love and obsession become blurry as the story progresses.
Cast: Kartik Aaryan, Alaya F, Tripti Agarwal, Jeniffer Piccinato.
Director: Shashanka Ghosh
Release Date: 2 Dec, 2022
An Action Hero
Story: Maanav, a well-known icon, was recently involved in a filming accident in Haryana, and he has since gone into hiding.
Cast: Ayushman Khurana, Mirabel Stuart, Hiten Patel, Jitendra Rai, John Byrne, Simon Britton, Tygorah Smith, Jaideep Ahlawat, Elton Tan, Onder Sirin, Neill Barnes.
Director: Anirudh Iyer
Release Date: 2 Dec, 2022
India Lockdown
Story: The film "India Lockdown" is based on real-life occurrences, and it tells four interconnected stories of the effects that the Covid-19 outbreak has had on the people of India.
Cast: Sai Tamhankar, Prateik Babbar, Kavita Murkar, Aahana Kumra, Shweta Basu Prasad, Prakash Belawadi, Saanand Verma, Madhvendra Jha, Salim Siddiqui, Gopal Singh, Tahura Mansuri, Zarin Shihab, Sahil Sethi.
Director: Madhur Bhandarkar
Release Date: 2 Dec, 2022
Shiv Shastri Balboa
Story: Shiv Shastri, a retired man from India who is also a huge fan of the Rocky movies, moves to the United States and finds himself on an unexpected road trip through the American heartland. This journey teaches Shiv that it is never too late to reinvent oneself and that he should capture every opportunity that comes his way.
Cast: Anupam Kher, Neena Gupta, Nargis Fakhri, Sharib Hashmi, Jugal Hansraj, Nalneesh Neel, Rhea Yadav, Marianne Goodell, Trevor Mccollum, Edward Sellner, Anand Rao, Anil Joseph, Mark Kalet, Anahita Singh, Nicholas Rodriguez, Aarav Desai, Jeremy Hughes, Simonas Zmuidzinas, Alexandra Faye Sadeghian, Alison Corriere, George Banghart Jr.
Director: Ajayan Venugopalan
Release Date: 5 Dec, 2022
The Confession
Story: Documentaries that investigate the unexplained disappearance of a British housewife named Patricia Hall from the little village in where she lived in Yorkshire.
Cast: Nana Patekar
Director: Anant Mahadevan
Release Date: 8 Dec, 2022
CAT
Story: In order to preserve his brother's life, a guy who has previously worked as an informant for the police is pressured into doing so once more, which causes him to confront the troubled events of his past.
Cast: Randeep Hooda, Suvinder Vicky, Hasleen Kaur, Geeta Aggarwal, Dakssh Ajit Singh, Sukhvinder Chahal, Kavya Thapar, Danish Sood, Pramod Pathal.
Director: Balwinder Singh Janjua
Release Date: 9 Dec, 2022
Blurr
Story: The narrative of a lady who is trying to uncover the death of her twin sister as she is also going blind and losing her sight.
Cast: Taapsee Pannu, Gulshan Devaiah, Vishal Rana, Abhilash Thapliyal, Sorabh Chauhan, Backagaindancer.
Director: Ajay Bahl
Release Date: 9 Dec, 2022
Maarrich
Story: Tusshar plays a police officer looking into serial killings. The serial killer's path of destruction across the metropolis was long and winding. The serial murderer is shown as a 'Hatman' who carries a dagger and wears a trench coat. On his investigation, Tusshar encounters a number of suspects, all of whom have their own sinister motivations.
Cast: Naseeruddin Shah, Tusshar Kapoor, Anita Hassanandani, Dipannita Sharma, Rahul Dev, Seerat Kapoor, Taiyaba Mansuri.
Director: Dhruv Lather
Release Date: 9 Dec, 2022
Vadh
Story: The story of an elderly married couple who were content with their typical existence in the middle class until their son made the decision to pursue further education in the United States.
Cast: Sanjay Mishra, Neena Gupta, Manav Vij.
Director: Jaspal Singh Sandhu, Rajeev Barnwal
Release Date: 9 Dec, 2022
Tipsy
Story: Things don't go according to plan for a group of female friends who travel to Goa for the bachelorette celebration of one of their own.
Cast: Esha Gupta, Deepak Tijori, Kainaat Arora, Akshay Arora, Danish Bhatt, Vikas Verma, Nazia Hussain , Aman Mehra, Alankrita Sahai, Natasha Suri, Bharat Bhatia, Mandeep Kaur Sandhu, Pawan Pandey, Mithun Rodwittiya.
Director: Deepak Tijori
Release Date: 9 Dec, 2022 Not Confirmed yet
Life Is Good
Story: In the wake of his mother's passing, Rameshwar, a reticent accountant, withdraws from society and sinks into a deep depression. Six-year-old Mishti chooses Rameshwar as her new closest friend, and he worries that she'll eventually grow apart from him again.
Cast: Jackie Shroff, Rajit Kapur, Saniya Anklesaria, Ananya vij, Darshan Jariwala, Mohan Kapoor, Nakul Sahdev, Sunita Sen Gupta, Saanand Verma, Ankita Shrivastav.
Director: Anant Mahadevan
Release Date: 9 Dec, 2022
Salaam Venky
Story: Sujata, the model of a mother, was able to maintain her cheerful demeanour in the midst of some of life's most trying circumstances.
Cast: Kajol, Aamir Khan, Aahana Kumra, Rajeev Khandelwal, Rahul Bose, Jaineeraj Rajpurohit, Vishal Jethwa, Anant Mahadevan, Maala Parvathi.
Director: Revathi
Release Date: 9 Dec, 2022
The Lift
Story: An official pair is said to be at the centre of the uplift. The pair stays late in the workplace to get some work done, but they're stranded there. They hold hands as they leave the building. Paranormal forces, however, prevent them from leaving the workplace. They also see two workplace security guards killed and come to the conclusion that some sort of otherworldly force is to blame. Their sole hope of escape is a lift, which may be won with a structured game. Can they make it through this?
Cast: Akhil Rajendra
Director: Rajesh Rathi
Release Date: 9 Dec, 2022
Sukhee
Story: The film depicts a typical day in the life of a woman, from waking up to the unceasing task of caring for her husband and children. The optimistic tone of this slice-of-life short proves that women can achieve everything they set their minds to.
Cast: Shilpa Shetty, Nitanshi Goel, Mridula Oberoi, Nagendra Pratap Singh Verma.
Director: Sonal Joshi
Release Date: 10 Dec, 2022
Bloody Daddy
Story: The film Nuit Blanche (Sleepless Nights), starring Tomer Sisley, was released in France in 2011, and it is widely assumed that Bloody Daddy will be a remake of it. Shahid Kapoor will play a parent on the run from the mafia in order to protect his child in this action thriller.
Cast: Shahid Kapoor, Ankur Bhatia.
Director: Ali Abbas Zafar
Release Date: 10 Dec, 2022
Avatar: The Way of Water (Hindi Dubbed)
Story: On Pandora, Jake Sully has settled down with his adopted family. When an old enemy reappears with the intention of completing his prior work, Jake must join forces with Neytiri and the Na'vi military to save their home world.
Cast: Sam Worthington, Zoe Saldana, Michelle Yeoh, Kate Winslet, Sigourney Weaver, Giovanni Ribisi, Oona Chaplin, Jemaine Clement, Stephen Lang, Chloe Coleman, Cliff Curtis, Edie Falco, CCH Pounder, Joel David Moore, Matt Gerald, Bailey Bass, Keston John, Jamie Flatters, Brendan Cowell, Filip Geljo, Britain Dalton, Jack Champion.
Director: James Cameron
Release Date: 16 Dec, 2022
Govinda Naam Mera
Story: In this mixture of chaos, confusion, and amusement, the extremely charming Govinda Waghmare juggles his time and affection between his wife Mrs. Waghmare and his lover. This leads to a lot of funny situations.
Cast: Vicky Kaushal, Kiara Advani, Bhumi Pednekar, Aparshakti Khurana, Abhishek Banerjee, Mukesh Tiwari, Asif Basra.
Director: Shashank Khaitan
Release Date: 16 Dec, 2022
No Means No
Story: In No Means No, a courtroom drama that unfolds with the thrill of a roller coaster ride as each twist and turn begins to unravel to a finale that shouts out for justice meets the excitement of a cross-genre action-packed teen musical love tale.
Cast: Neetu Chandra, Gulshan Grover, Sharad Kapoor, Arman Kohli, Dhruv Verma, Deepraj Rana, Milind Joshi, Anna Ador, Natalia Bak, Nazia Hussain , Anna Guzik, Sylvia Czech.
Director: Vikash Verma
Release Date: 16 Dec, 2022
Ajay Wardhan
Story: The forthcoming Bollywood film will be titled Ajay Wardhan. The life of the well-known Indian physician Ajay Aryan serves as the inspiration for the plot of the movie. Dr. Pragati Agarwal penned the script and directed the film.
Cast: Romil Chaudhary, Priya Sharma, Abhimanyu Aryan, Ramandeep Yadav, Malkeet Singh , Dimple Sharma, Barkha Pundir, Girish Thapar, Nandini Passi, Tarun Kalra, Sachin Passi, Anuj, Kshitij, Dimple, Yogesh.
Director: Pragati Agarwal
Release Date: 16 Dec, 2022
The Good Maharaja
Story: The film is set in the past and is based on the real-life occurrence of the Maharaja of Jamnagar rescue 1,000 Polish children during World War II. The film also has a love tale that is intertwined with a great deal of action and drama.
Cast: Sanjay Dutt, Dhruv Verma, Sharad Kapoor, Gulshan Grover, Deepraj Rana, Neetu Chandra, Natalia Bak, Sylvia Czech, Raaj Vishwakarma.
Director:  Vikash Verma
Release Date: 17 Dec, 2022
Tiger Nageswara Rao
Story: A biopic on the legendary thief Tiger Nageswara Rao, who operated in Stuartpuram in the 1970s.
Cast: Ravi Teja, Gayatri Bhardwaj, Anupam Kher, Nupur Sanon, Mandava Sai Kumar, Rajiv Kumar Aneja, Renu Desai, Praveen Dacharam.
Director: Vamsee
Release Date: 22 Dec, 2022
Cirkus
Story: A circus operator and his gymnast buddies who are all part of a large circus business 'juggle' with their lives while working for the same company to revive the dying culture of the circus for the general public.
Cast: Ranveer Singh, Pooja Hegde, Jacqueline Fernandez, Varun Sharma, Sanjay Mishra, Johny Lever, Siddhartha Jadhav, Vrajesh Hirjee, Vijay Patkar, Sulabha Arya, Mukesh Tiwari, Murali Sharma, Anil Charanjeett, Tiku Talsania, Ashwini Kalsekar, Garima Agarwal, Avishkar Halse.
Director: Rohit Shetty
Release Date: 23 Dec, 2022
Ganapath
Story: Ganpath is an action-packed movie that follows the story of a young kid named Ganpat, who starts off in Mumbai. The story tracks his rise from an everyday person to a boxer of world-class calibre.
Cast: Tiger Shroff, Kriti Sanon.
Director: Vikas Bahl
Release Date: 23 Dec, 2022 Not Confirmed Yet
Merry Christmas
Story: Writer and Director Sriram Raghavan, who has proven himself as a leader in this industry, has created another thriller with Merry Christmas. The creators of the film have not yet revealed the storyline for it.
Cast: Katrina Kaif, Vijay Sethupathi.
Director: Sriram Raghavan
Release Date: 23 Dec, 2022 Not Confirmed Yet
Boyfriend
Story: The film Boyfriend focuses on a psychopath who is responsible for the deaths of females after he has become their boyfriend. The plot of the movie takes an unexpected turn, though.
Cast: Ananya Basu, Shibesh Motilal, Pathikrit Ghosh.
Director: Shibesh Motilal
Release Date: 25 Dec, 2022
Smile Hearts
Story: Smile Hearts promotes the idea that in order to be happy, healthy, and successful in life, one needs to have a positive attitude.
Cast: Rahul Roy, Shashikant Sharma, Arif Shahdoli, Dr Balkrishna, Kirti Shreeyansh Jain, Narendra Saxena, Shiwam Shukla.
Director: Dr. Balkrishna
Release Date: 25 Dec, 2022
Satta Apne Baap Ki
Story: The Bollywood masala entertainment of the 1990s is shown in the film Satta Apne Baap Ki.
Cast: Paresh Rawal, Divya Dutta, Avinash Wadhawan, Shaheen, Shakti Kapoor, Reema Lagoo, Arjun.
Director: Hamid Ali
Release Date: 25 Dec, 2022
Nasha Jurm Aur Gangsters
Story: This is the tale of three notorious gangsters named Jeet, Jacky, and Basu. They are the professional mafia in the city of Mumbai, and their goals are to accumulate wealth and increase their influence. Nevertheless, they are about to be surprised by something that will change their behaviour.
Cast: Rajkumar Patra, Rocky Rupkumar Patra, Yudhisthir, Abhijit Acharjee, Bhabendu Satpathi, Agni Dutta, Feroz Khan-II, Piklu, Biswajit Shukla, Soumen, Aparna Giri, Abhishek Mandal, Mithu Dey, Munni Pankaj, Manisha Dutta, Akshay Rudransh, Bidyut Mahapatra, Rani.
Director: Rajkumar Patra, Rocky Rupkumar Patra
Release Date: 25 Dec, 2022
Noorani Chehra
Story:  An unusual romance, Noorani Chehra is full of unexpected twists and turns. The film's romance subplot is infused with a societal message of loving yourself just as you are. The video presents an optimistic view of topics like race and physical appearance. Everyone, regardless of physical characteristics, is lovely, as categorically stated in Noorani Chehra.
Cast: Nawazuddin Siddiqui, Nupur Sanon.
Director: Navaniat Singh
Release Date: 28 Dec, 2022
Kisi Ka Bhai Kisi Ki Jaan
Story: There are three brothers, and the two younger ones are forced to wait to get married until after their older brother has found someone.
Cast: Salman Khan, Pooja Hegde, Shehnaaz Gill, Rofique Khan, Parth Siddhpura, Jagapati Babu, Anish Lovo, Raghav Juyal, Venkatesh Daggubati.
Director: Farhad Samji
Release Date: 30 Dec, 2022
Masoom Kaatil
Story:  Anirudh adores his grandpa. When he's 8, his grandpa dies and he learns the narrative of Garun Purana, which says all humans would get 84 lakhs yonis after death. Knowing he must be delivered vaginally, he thinks his grandfather will be a rooster, goat, etc. When he goes to school, he hears hens and goats being butchered. When he watches, he feels sorry and starts hating the butchers, so he plans to murder them all in 11th grade. When Vedika discovers that Anni murders butchers in Delhi, she forms a plot with him. It says we won't kill butchers so easily, but by kidnapping and torturing them, we'll murder them like he kills animals by making them halal. Pa tortures them, then Anirudh and Vedika abduct the butchers in a cellar and torment them in the same way, killing them as the police search for them.
Cast: Aakash Gupta, Jagriti Reigns, Kabeer Rai, Shelly Dhyani, Satyam Singh Rajput.
Director: Shyam Bharteey
Release Date: 30 Dec, 2022
Screwdriver
Story:  In addition to providing entertainment, the film "Film Screwdriver" is classified as a thriller, and it asserts that it will provide you with a terrifying experience all the way through it.
Cast: Mandana Karimi, Tisca Chopra, Ronit Roy, Rajeev Khandelwal, Rahul Bose, Tara Alisha Berry, Manisha Kelkar, Gulshan Grover, Sid Makkar, Pitobash Tripathy.
Director: Raman Bharadwaj
Release Date: 31 Dec, 2022