Facts about Chris Martin that are a lot of fun to learn!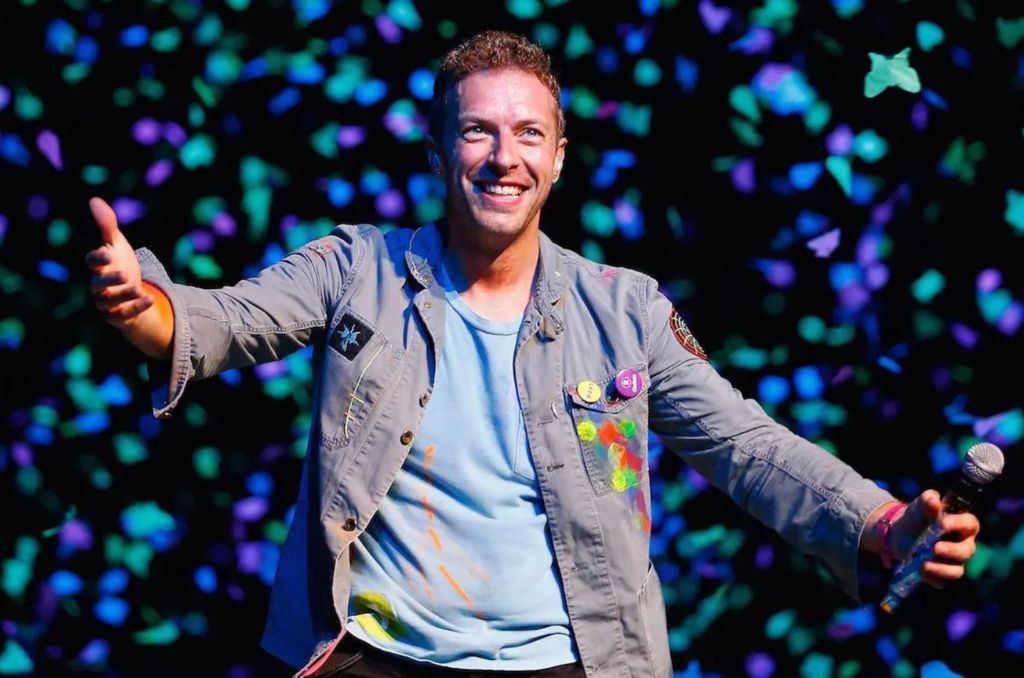 Christopher Anthony John Martin is an English vocalist, songwriter, and musician. He was born on 2 March 1977. He is best known as the main vocalist, pianist, and rhythm guitarist of the rock band Coldplay, as well as its co-founder. He attended University College London, where he founded the band with classmates Jonny Buckland, Guy Berryman, and Will Champion. They gained recognition for albums such as A Rush of Blood to the Head (2002), Viva la Vida or Death and All His Friends (2008), and others, after the release of "Yellow" in 2000. As a member of the band, he garnered seven Grammy Awards and nine Brit Awards. As of 2021, they have sold more than one hundred million albums worldwide, making them the most successful group of the 21st century. Martin was included on the 2017 list of the most influential persons in the United Kingdom compiled by Debrett.
Early Years And Education
Chris was born on March 2, 1977 to Anthony Martin and Alison Martin. He is the eldest of five siblings; he was born in Exeter, Devon, England. His early years were spent in Whitestone, Devon, England.
Chris attended preparatory institutions. After attending Hylton School, he continued his education at the preparatory Exeter Cathedral School. This is where he discovered his passion for music. Chris continued his education at the Dorset-based Sherborne School after graduating from Exeter Cathedral School. This is where he met the future manager of 'Coldplay,' Phil Harvey.
He resided in Ramsey Hall while attending University College London. He graduated with honors from University College London in Latin and Greek. He also encountered his future bandmates, Will Champion, Jonny Buckland, and Guy Berryman, at the University of London.
Family, Romance, And Relationships
Chris's mother, Alison Martin, is from Zimbabwe and is a music teacher. Chris's father, Anthony John Martin, is a retired chartered accountant. According to a May 2023 article published by The Times, Martin's estimated net worth is £160 million. Martin disclosed in a 2012 interview with the Daily Mirror that he had suffered from tinnitus since his early adult years, although he claimed to have observed the symptoms as a teenager "while listening to loud music" Martin wears specially filtered earplugs or custom in-ear monitors while performing, and he has encouraged his bandmates to do the same. Likewise, he has advised his offspring to wear hearing protection to concerts. Having partnered with the Royal National Institute for Deaf People, Martin has also become an advocate for hearing loss awareness. In 2005, PETA dubbed Martin the World's Sexiest Vegetarian. Following his divorce from Gwyneth Paltrow, he resumed consuming meat.
According to one source, Martin previously dated live events producer Lily Sobhani around the release of the Parachutes album. On December 5, 2003, he wed American actress Gwyneth Paltrow in a private ceremony attended by their friends and family. Their daughter Apple was born in London in May 2004. Martin and the band released "I am your baby's daddy" under the moniker "the Nappies" prior to her birth. As the main single from the band's X&Y album, "Speed of Sound" was also inspired by Martin's experience and awe at becoming a father.
Martin's daughter has Simon Pegg and Jonny Buckland as godfathers, and Pegg's daughter has Martin as a godfather. Moses, his second child, was born in New York City in April 2006. The name was inspired by a tune he wrote for Paltrow with the same title. After ten years of marriage, Martin and Paltrow proclaimed their separation as a "conscious uncoupling" in March 2014. In April 2015, Paltrow filed for divorce, which was formalised on July 14, 2016.
From August 2015 to August 2017, he was intermittently involved with the actress Annabelle Wallis. Martin has been in a relationship with American actress Dakota Johnson since October 2017. They are Malibu, California residents.
Martin is an Exeter City supporter. Moreover, he is ambidextrous. In February of 2020, a former classmate of Martin's discovered a cassette recording. It featured a three-minute instrumental composition titled "Electric Thunder" that was composed by Martin at Exeter Cathedral School when he was 12 years old. Martin played keyboards to complement other students performing in the Grandisson Ensemble on the track. The cassette was anticipated to sell at auction for £600.
Chris Martin Net Worth
Chris Martin, the talented lead singer of the amazing rock band Coldplay, is not only known for his incredible voice but also for his impressive net worth. As of 2023, his estimated net worth is a whopping $160 million!
Coldplay, with their outstanding music, has managed to sell over 100 million albums worldwide, which has greatly contributed to Martin's financial success. He receives a share of the music royalties from the band's album sales, and with such a massive global fan base, those royalties definitely add up.
In addition to their album sales, Coldplay's popularity as a live act is undeniable. They are one of the most sought-after touring bands around, and every concert tour brings Martin a share of the profits. Their electrifying performances and loyal fan base ensure that each tour is a tremendous success.
But Chris Martin's financial endeavors don't end there. He has wisely invested in various businesses, such as the renowned beverage company Vita Coco and the widely-used music streaming service Spotify. These ventures have not only expanded his portfolio but have also contributed to his impressive net worth.
Beyond his remarkable success in the music and business worlds, Chris Martin is also a passionate philanthropist. He has generously donated millions of dollars to charitable causes, using his wealth and influence to make a positive impact on the world. Additionally, he is a vocal advocate for environmental causes, using his platform to raise awareness about pressing issues and inspire others to take action.
Professional and Career Highpoints
Chris and Jonny Buckland founded 'Coldplay' at University College London, with Chris as the lead vocalist and Jonny as the lead guitarist. Later, Guy Berryman joined as the bassist, and Will Champion became the percussionist. Initially, in 1996, they named the band 'Pectoralz,' which they later changed to 'Starfish,' before being offered the name 'Coldplay' by another band that no longer wanted to use it. 
In 2000, they released their debut album, Parachutes, which achieved international acclaim and recognition almost immediately. 'Yellow,' one of the tracks on this album, reached number four on the charts. The band has released nine studio albums and multiple EPs to date.
Martin has a successful solo career as well. He has composed compositions for a variety of artists, including 'Gravity' for 'Embrace' and 'See It In A Boy's Eyes' for 'Jamelia.'He has produced hit compositions with artists such as Avicii, Dua Lipa, and Jay Z.
Facts about Chris Martin that are a lot of fun to learn!
Christopher Anthony John "Chris" Martin is an English singer-songwriter, pianist, and guitarist, as well as the main vocalist and co-founder of Coldplay.

Chris Martin is the firstborn of his five siblings; he was born in Whitestone, Exeter, Devon, England.

Chris Martin once stated that his greatest aspect of being a member of Coldplay was waiting for Madame Tussauds to call.

Chris Martin reportedly speaks "Denovian," which he describes as "farm language."
In 2003, Chris Martin was arrested in Australia for attacking a paparazzi vehicle.
Chris Martin once paid $400,000 for a Banksy piece he purchased at Sean Penn's charity event.

His family's business was Martins of Exeter until 1999 when it was sold by his father.

The composition "Glass of Water" is Chris Martin's favourite by Coldplay.

Chris Martin had to learn to croon 'The Scientist' in reverse for the music video. He learned the phonetic movements to create the illusion that he was accurately singing the words.

Martin attended Sherborne School in Dorset after Exeter Cathedral School, where he met future Coldplay manager Phil Harvey.

Chris Martin graduated with a degree in Ancient World Studies from University College London.

Chris Martin once DJed at an Arcade Fire concert while donning a skeleton mask to conceal his identity.

Chris Martin and actress Gwyneth Paltrow were married for ten years.

The couple met at a Coldplay concert in 2002, while the band was touring their second album A Rush of Blood to the Head, after rumours of a relationship began to circulate in tabloids.

Martin and the band published the song "I am your baby's daddy" under the name "The Nappies" prior to Apple's birth. Moses Bruce Anthony Martin, their second child, was born in April 2006 in New York City. The name Moses was inspired by a tune titled "Moses" that Martin composed for Paltrow.

Chris Martin subsequently referred to "Nightswimming" as "the greatest song ever written."

Martin stated of his religious beliefs in a 2005 Rolling Stone magazine interview, "I absolutely believe in God. How can anyone gaze at anything and not be awestruck by its miraculousness?

Chris Martin referred to Richard Ashcroft, formerly of The Verve, as "the best singer"

Chris Martin is a known admirer of Oasis and Muse, the Irish pop group Westlife, the British pop groups Girls Aloud and Take That, and the Canadian indie rock band Arcade Fire.