Alia Bhatt's First Look in RRR Will Be Revealed on 15th March, 11 AM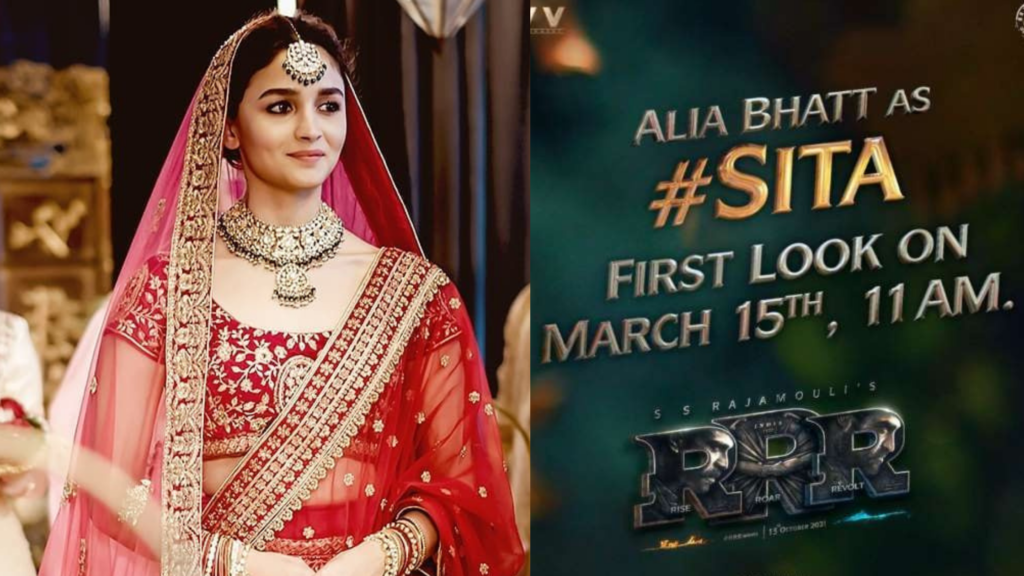 RRR Movie, Star cast NTR, Ram Charan, Alia Bhatt, and others in a fictional period drama directed by SS Rajamouli's magnum is scheduled to release in theatres across India on October 13. RRR movie already created so much buzz on social media by the casting of NTR, Ram Charan, and Alia Bhatt. The makers of the film already announced releasing date, but fans can't wait to see the leading roles' first look in the movie.
In Telugu, RRR stands for Roudram Ranam Rudhiram, and In Tamil, RRR stands for Raththam Ranam Rowthiram.
Alia Bhatt's First Look in RRR Will Be Revealed on 15th March at 11 AM
Fans are already so excited about the pairing of main leads. Alia Bhatt's look as sita is not much more explained previously while the movie release date was announced. But Finally, Alia Bhatt's most awaited first look is going to reveal on 15 March. Makers are Decided to reveal Alia Bhatt's first look on her Birthday.
Alia Bhatt is already done shooting of main and brief parts of the movie. As we all know Ranvir Kapoor(Alia Bhatt's Boyfriend) Tested Corona Positive, and she returned to Mumbhai and Quarantine. After some time, when the things will be sorted, she will go back with scheduled plans of Movie.
From previously shared images of RRR movies of Ram Charan and NTR took to social media to state on another level. Now all are ready to experience its finest avatar on October 13, 2021'.
Inspiration from the Motorcycle Diaries and the lives of freedom fighters Komaram Bheem and Alluri Sitarama Raju, RRR fictional tale set in the 1920s, in this Ram Charan's role is characterized by fire and NTR's Role is related by the element, water.
Read about "Yash Starrer KGF Chapter 2 Release Date Out: Yash Fan Writes a Letter to PM Modi"