Aamir Khan and Kiran Rao Announce Divorce After 15 Years of Marriage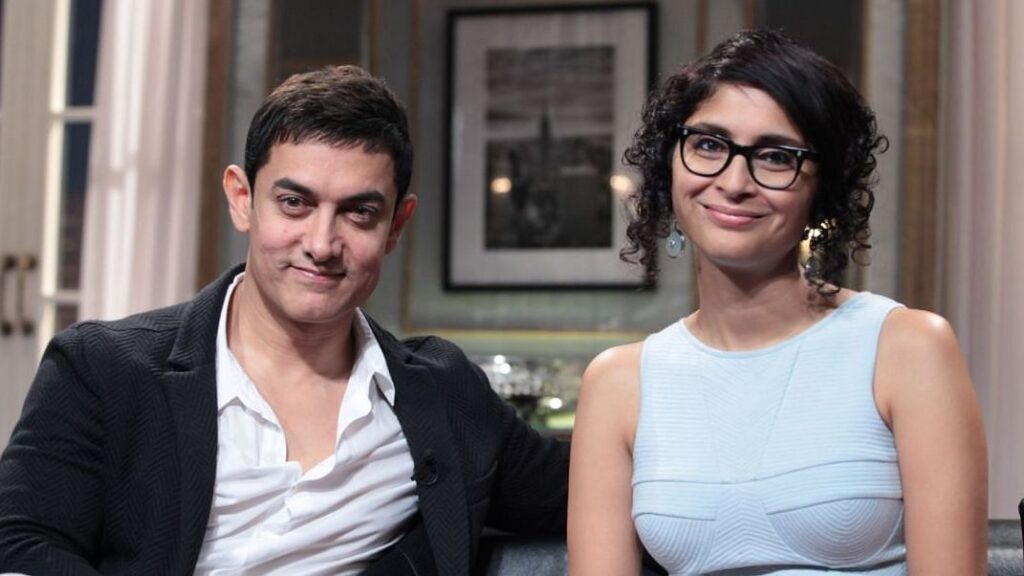 Kiran Rao and Aamir Khan, one of Indian cinema's strong couples, confirmed their divorce in a combined statement on Saturday.
Aamir Khan and Kiran Rao Jointly Confirm the News of Separation
We've shared a lifetime of events, joy, and happiness in these 15 wonderful years together, and our marriage has only grown in trust, respect, and love. Now that we are no longer husband and wife, we want to make a fresh start in our existence as co-parents and family for each other," Rao and Khan, who have a son named Azad, said.
Kiran Rao and Aamir Khan's marriage, which took place on December 28, 2005, has been one of Indian cinema's most creative unions, bringing together one of the country's biggest celebrities and a movie lover who desired to be a writer-director.
They began dating on the set of Ashutosh Gowariker's Lagaan (2001), one of India's most financially viable films, where the former served as an assistant director. Their love blossomed afterward, Khan stated in interviews, while the actor was undergoing the formal separation procedure from his first wife, Reena Dutta. Khan and Dutta separated in 2002 after having a son, Junaid, and a daughter, Ira. 
Aamir Khan Productions' Kiran Rao was a co-producer on many critically acclaimed and financially successful movies. Jaane Tu…Ya Jaane Na (2008), Peepli Live (2010), Delhi Belly (2011), Dangal (2016), and the documentary Rubaru Roshni are among them (2019).
Khan appears as one of the characters in Dhobi Ghat (2010), which Rao wrote and directed. In 2016, Rao and Khan co-founded the Paani Foundation, a non-profit dedicated to making rural Maharashtra drought-free.
Rao has also been a strong supporter of indie film. She introduced and diligently marketed Anand Gandhi's critically acclaimed directorial movie Ship of Theseus (2013). She tried to build an eclectic centre for cinema in Mumbai, in partnership with other important film professionals, where one could enjoy and interact in a varied variety of movies.
Rao ended up taking over as chairperson of the Mumbai Academy of the Moving Image (MAMI), which arranges the annual event when the Mumbai Film Festival faced financial difficulties in 2014. Veteran filmmaker Shyam Benegal resigned as chairperson of the Mumbai Academy of the Moving Image (MAMI), which arranges the annual event. The festival gained a fresh lease on life under her direction, attracting new sponsors and improving its programming. 
"After marrying Aamir Khan, it's the most crucial move Kiran Rao has taken," actor-producer Salman Khan said during the closing ceremony that year. Rao's appointment as chairwoman was seen to have assisted the festival is attracting a large number of notable celebrities on the red carpet. She resigned down as chairman of MAMI in early 2019 and was replaced by actor Deepika Padukone.
Kiran Rao and Aamir Khan have stated unequivocally that they should continue to collaborate on business and personal initiatives. "We began a planned separation a long time ago and are now we are prepared to finalize our arrangement of living separately but sharing our lives as family members. We will continue to be loving parents to our son Azad, whom we will raise together. They said, "We will collaborate on films, the Paani Foundation, and other initiatives that we are enthusiastic about." When revealing Azad's birth in 2011, the former couple was similarly candid, stating that he was born "after a long wait" and "through IVF surrogacy."
"We would like to thank you to our families and friends for their constant support and understanding concerning this progression in our relationship, without whom we would not have felt so confident in taking this step," they said at the end of their message.
We ask for good prayers and blessings from our well-wishers, and believe that, like us, you will consider this divorce as the beginning of a new journey."
This doesn't seem too unlikely, given that the extended Khan family, which includes Dutta, has shared many special celebrations over the years.