Bollywood Actor Akshay Kumar Celebrates Kesari's 'Teri Mitti' as It Records More Than One Billion Views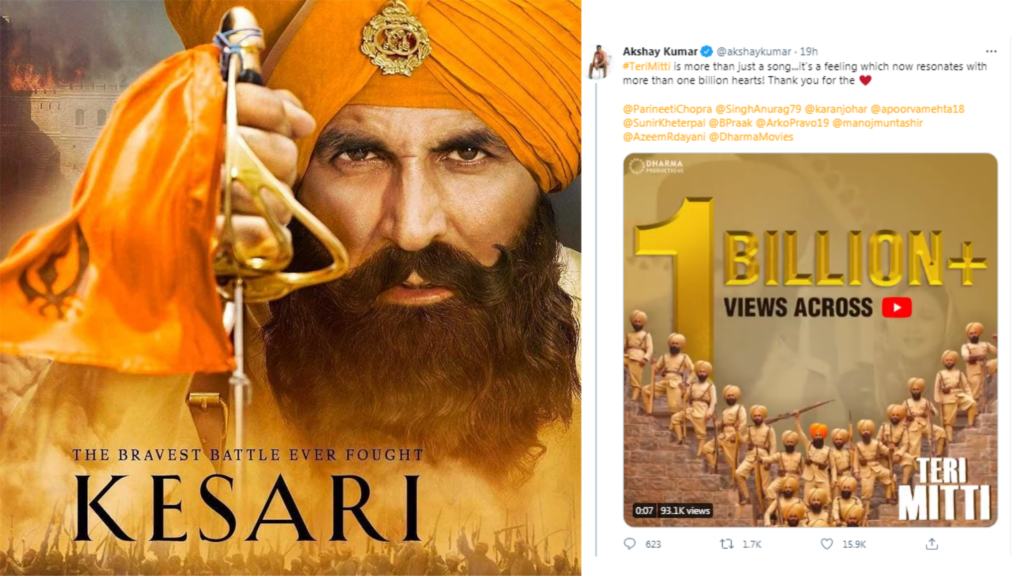 Akshay Kumar starrer movie Kesari's song 'Teri Mitti' has crossed one billion views on YouTube. Akshay Kumar has shared this news on Twitter. In Akshay Kumar's post, he says, "#TeriMitti is more than just a song… It's a feeling that now resonates with more than a billion hearts! Thanks for the love."
#TeriMitti is more than just a song…it's a feeling which now resonates with more than one billion hearts! Thank you for the ♥️@ParineetiChopra @SinghAnurag79 @karanjohar @apoorvamehta18 @SunirKheterpal @BPraak @ArkoPravo19 @manojmuntashir @AzeemRdayani @DharmaMovies pic.twitter.com/mSqtsg5716

— Akshay Kumar (@akshaykumar) March 16, 2021

Punjabi musician and singer B Prak has composed this intimate track who entered Bollywood and made his debut with Akshay Kumar. Despite this, B Prak has shared his experience with Akshay Kumar and told the importance of Akshay Kumar in his personal and professional life. 
B Prak calls him his 'main man', and he mentioned that Akshay Kumar is not a small or big part of his life, but he is God to him. He was speechless while expressing his feelings toward Akshay Kumar. He said, he just wants to say thank you to him (Akshay Kumar), and he is his 'main man', and he loves him so much. 
Akshay Kumar and B Prak also collaborated with each other in a song named 'Filhaal'. The staff has not too long ago to shoot for another sequel and an upcoming music video has been shot in New Delhi and Mumbai.